This is the final entry in a three part series. Click here to download the entire guide (PDF).
Your brand can achieve icon status in esports and gaming through cultural branding. Where gamers value your product for what it means to their identity first, followed by its functional benefits. Cultural branding differs from the three main models prevalent in conventional marketing today – emotional, mindshare and viral (see below).
Emotional – Centered on interpersonal interaction and building deep emotional relationships with customers.
Mindshare – Companies establish a consistent, ownable set of associations whose repetition leads customers to perceive benefits when buying the product.
Viral – Word of mouth focused communication that motivates consumers to become brand advocates and ambassadors.
The applicability of conventional models varies based on the product category in question. For example, the mindshare model is a better fit for highly technical categories like computer hardware than it is for bleeding edge fashion. Whereas the viral model is tailor fit for mobile apps.
When it comes to esports marketing, cultural branding is particularly powerful for products unrelated to gaming. Why? Because it employs culture to ensure brand marketing is relevant, provocative, and inspiring for esports fans and gamers alike.
Most importantly, cultural branding leads to the benefits espoused by conventional models. In that, tapping into the culture that shapes the identity of gamers leads to developing emotional connections, owning a focused position, and going viral with the same as customers.
Strategic direction helps your brand capture the market results of branding through culture – by pushing esports marketing activities in the right direction. It also helps make tough decisions by outlining criteria that distinguish better choices from worse ones.
Among other things, an impactful cultural branding strategy defines:
Identity value 
Cultural elements that meet brand guidelines 
Partnership decision-making criteria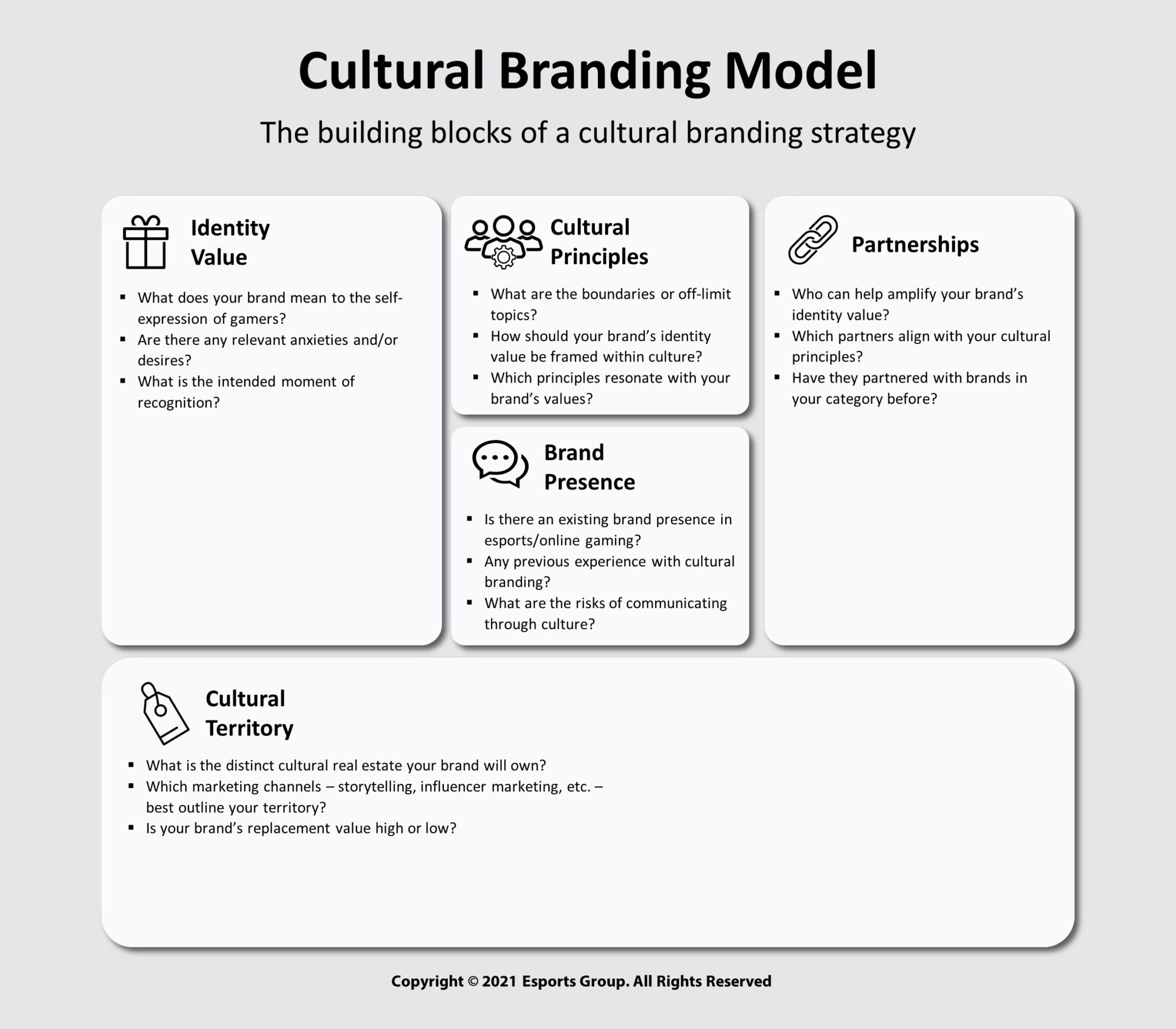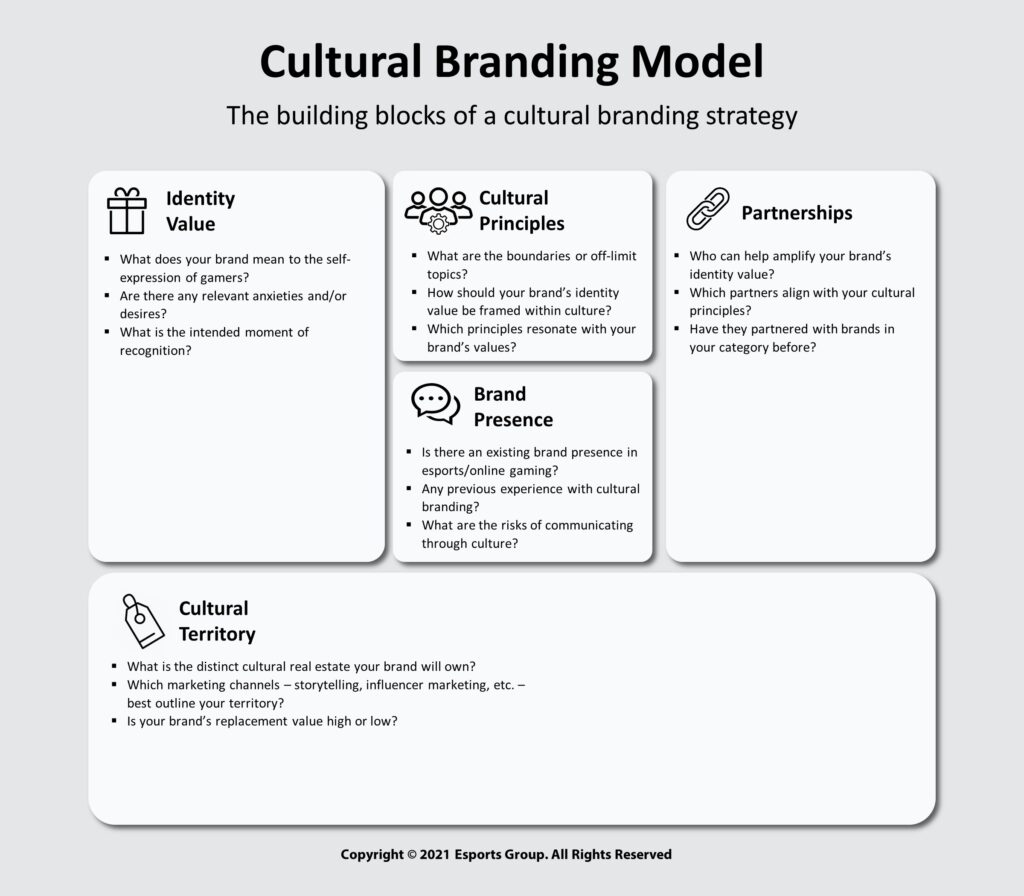 The following are building blocks of a cohesive and coordinated strategy for your marketing activities in esports and gaming. This approach focuses on authentically engaging culture through identity value instead of relying on abstract associations e.g., product and emotional benefits, brand personas, etc.
The model is a blueprint – not a complete strategy – for moving your brand towards icon status in the gaming community. Since no one-size-fits-all strategy can account for each brand's unique marketing goals, stakeholders, etc. 
Targeting an identity value
An effective cultural branding strategy depends on clear identity value that supports self-expression through gaming. The value should address desires and/or anxieties that apply to a collective identity. Identity value clearly answers the question, "What does your brand mean to the average gamer?"
The same way that over-targeting esports audience segments polarizes messaging in conventional models, it is crucial to avoid the same with cultural branding. In other words, the value should be relevant to the largest number of customers possible.
Why? Because identity value is expressed through culture. And the benefit of tapping into shared attitudes, beliefs, and social practices is that your message inherits an inclusive tone. Meaning, it is important to avoid force fitting identity value into unnecessarily exclusive target audiences.
Instead, identity value should flow from the intended moment of recognition – the point in time where a community realizes your brand "gets it." Defining your brand's promise in culture – such that keeping it creates moments of recognition – is the basis of relevant identity value. 
Identifying cultural principles
To become iconic in esports and gaming, your brand must find its way in culture. Specifically, the previously described principles help depict your brand's place in a lifestyle that is relevant to the online gaming community. The same codes also frame identity value.
Regardless, each brand is unique. Just as some areas of culture are a good fit for your company's mission and values. Others could be off-limits, depending on brand guidelines or comfort level. Either way, it is important to identify which themes best align with your approach to the market. 
Clarify brand presence
Just as digital marketing expands your online presence, cultural branding – with its focus on connecting products to lifestyle – is key to a strong presence in online gaming. Marketing through culture can also amplify existing brand presence through connection with identity, values, and perspectives shared by extended audiences.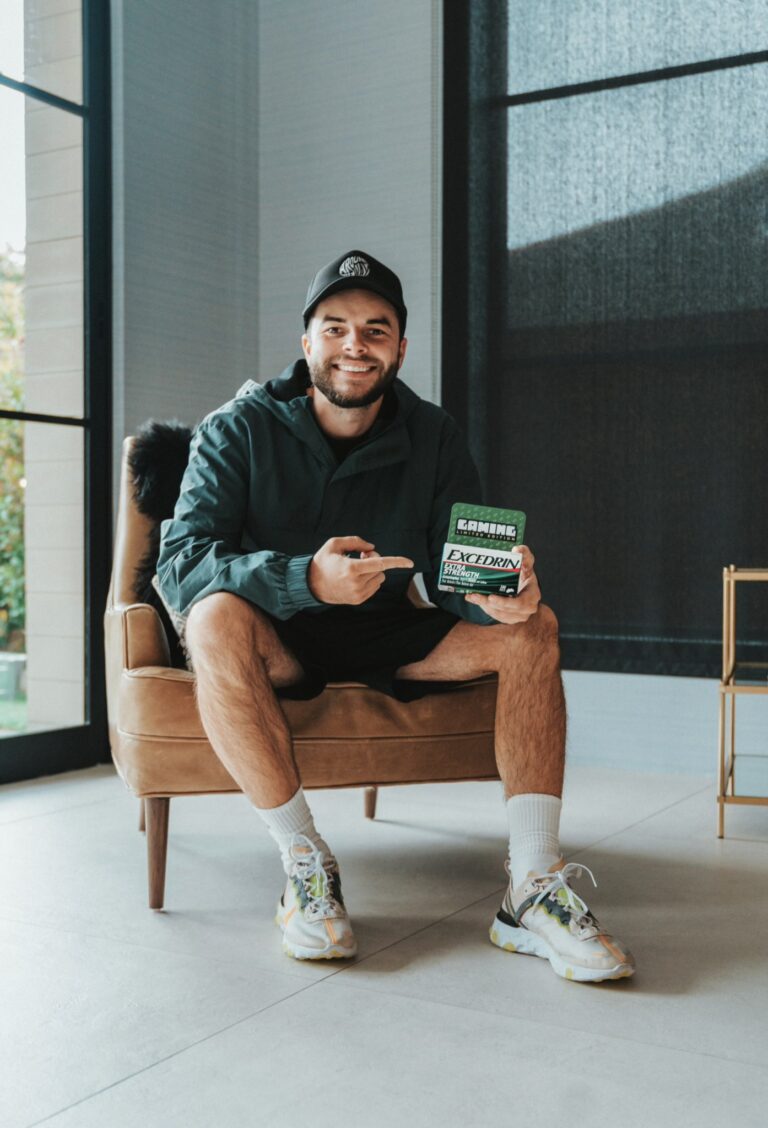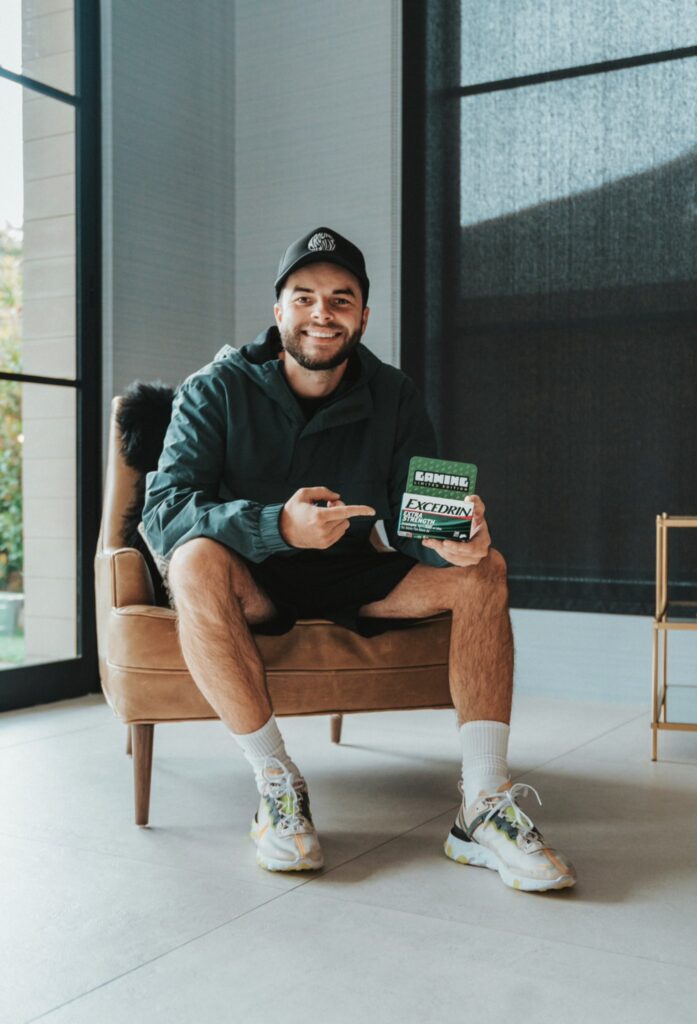 However, the approach could clash with benefits marketing strategies, for example. Excedrin – an over-the-counter headache pain reliever – claims research shows that gamers who play through headaches perform poorly. The findings, and a partnership with 100 Thieves CEO and former Call of Duty pro Matthew 'Nadeshot' Haag, are part of a campaign targeted to help gamers beat headaches.
Excedrin's functional value is driving current positioning, to the point that it risks conflict with esports marketing through culture. In that, identity value – what Excedrin means to the gaming lifestyle – is unrelated to research-backed benefits and/or tangible features. 
Partner selection
Esports brings online gaming culture to life in the form of unique storylines, personalities, history, etc. The resulting community is home to video game content particularly suited to media channels. This visibility has given birth to an ecosystem of companies – tournament organizers, game publishers, teams, etc. – available to help advertise to hard-to-reach audiences.
Most brands utilize some form of partnership within the ecosystem to meet esports marketing objectives. And since cultural branding resonates with a wider audience of gamers who do not follow the competitive video game scene. Your partners should be evaluated on how well they align with key elements of a cultural strategy. Specifically, does a potential partner:
Understand its place in the 21st century gaming lifestyle?
Have prior experience with culturally focused programs?
Lean towards building long-term customer relationships vs. awareness and visibility?
Partner selection also affects which game communities and audience segments your campaigns will have the most reach within, by association. Still, unlike traditional approaches to targeting and positioning, cultural branding is relevant beyond those boundaries.  
Owning cultural territory
Icon status in esports and gaming is marked by an ownable place in the culture of games. Instead of product associations or emotional benefits, marketing through culture delivers a distinct cultural territory shaped around identity value. Esports marketing activities – dictated by a cultural branding strategy – work to support territory ownership.
The territory evolves in tandem with your brand presence. With each activity – whether storytelling, content creation, etc. – helping to construct a fence around the area. However, it also requires care and feeding.
In the same way that landowners use outdoor power equipment to maintain their property, marketing channels – Twitch, YouTube, social media platforms, etc. – are tools for upkeeping your brand's online gaming real estate. With the objective of keeping a high replacement value – the cost for competitors to clone and/or replace that place in culture.  
Want to read the entire guide? Click here to download (PDF).
Getting it right
Buffalo Wild Wings (BWW) is an American casual dining restaurant and sports bar franchise, based in the United States, which specializes in Buffalo wings and sauces. In June 2020, BWW filed a trademark with the United States Patent and Trademark Office to become "The Official Sports Bar of Esports."
The dining establishment also teamed up with Riot Games' League of Legends Championship Series (LCS) esports circuit for a special promotion in February 2021. The "LCS 10 Wing Bundle" comes with fries, ten boneless wings, Red Bull, and a code to redeem a free Hextech Chest and Key. Buffalo Wild Wings also gained the right to activate the partnership throughout key seasonal events, including the LCS Spring and Summer Playoffs. 

As the leading sports bar chain in the USA, Buffalo Wild Wings is keen to tap into growing esports viewership and participation toward giving guests a go-to sports bar for match day. However, the notion of a sports bar for esports fans faces a cultural hurdle.
In that, sports bars are well established in American popular culture as a hub for socializing with like-minded fans or simply watching a game with family/friends. Locations like Buffalo Wild Wings have capitalized on a ritualistic relationship with athletic competition, to the extent that sports bars have developed as a unique restaurant style in the USA.
On the other hand, comparable rituals surrounding esports do not yet exist in the culture of games. The challenge for Buffalo Wild Wings' brand marketing is to create a meaningful connection between their restaurant locations and the expression of esports fandom.
The following applies the previously defined branding model to demonstrate how BWW can build that connection through its esports marketing. Where the objective is to establish BWW as an iconic location for the esports community in North America (NA).  
Identity value
McGreevy's, called America's first sports-themed bar, was a mainstay in Boston, Massachusetts dating back to the late 1800's, when it was the place to be for baseball players, politicians, gamblers, and die-hard fans known as the "Royal Rooters." At the time, it was the center of Boston's sporting and political worlds.
From then on, a pattern of family-owned pubs and taverns began popping up close to sports stadiums across the country. These establishments extended the tradition of European precursors that date to 15th century England. In the American versions, patrons could listen to games on the radio while they enjoyed food and drink.
That is, until 1979 when the Legends sports bar opened in Long Beach, California and became the first American establishment to broadcast live sporting events through a satellite feed. Legends marked the birth of the modern sports bar, as is known today.
Sports bars have roots in American mainstream culture that are over 120 years old. For Buffalo Wild Wings (BWW) to promote its locations as a destination for fans of digital sport, it must connect with a shared identity rooted in gaming culture. One that unifies fragmented interest in different game titles, teams, etc.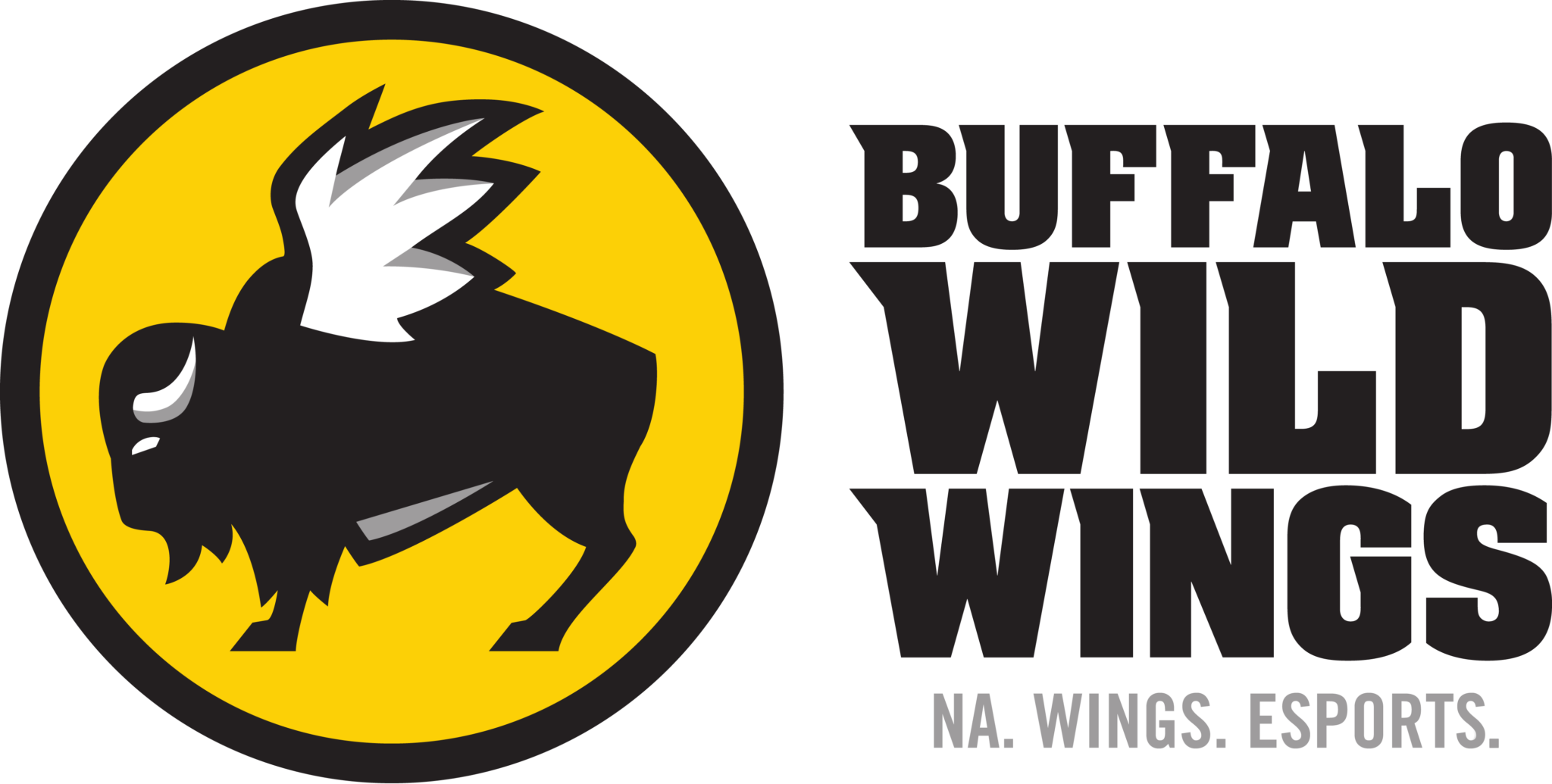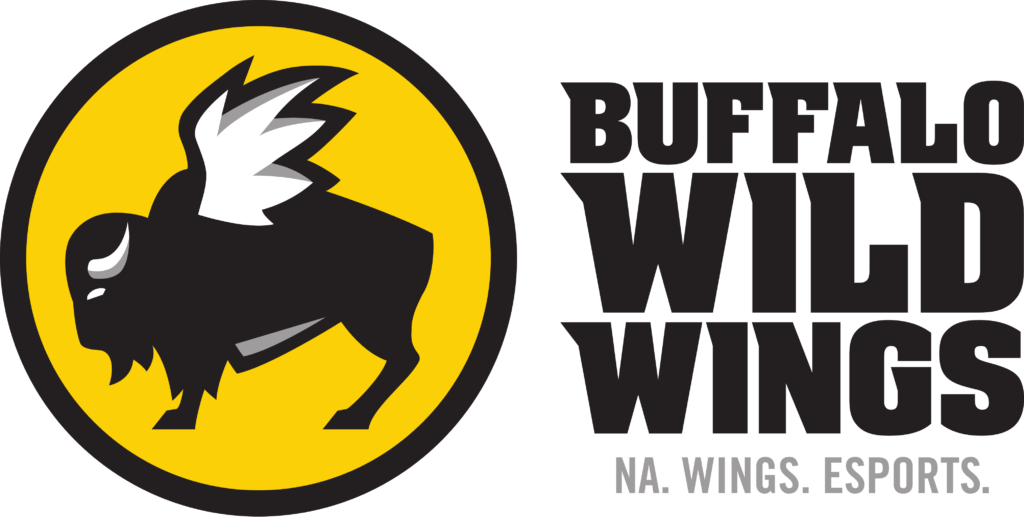 Towards that end, the brand's current trademark can be adapted to create an identity value of, "The Home for North American Esports Fans." Which ties BWW to the identity expression of esports fans who share a location/nationality. The result is a creative canvas for building relationships with a large market of customers in the USA and Canada.
The new identity value serves as a re-brand of sorts that bridges the gap between sports bars' mainstream roots and gaming culture. Meanwhile, BWW is positioned as a relevant symbol for an entire regional fanbase. 
Cultural principles
Buffalo Wild Wings' (BWW) cultural branding aligns with the following themes. It is important to note that BWW is tapping into online gaming culture to connect with the esports community – instead of force fitting competitive video games into mainstream culture.
Geography In online gaming, regions refer to centralized server hubs game publishers make available to players. Players login to the server in the geographically closest region to minimize lag, or ping, of their Internet connection. As a result, each region tends to have a unique 'meta' or playstyle. 
Competition Brackets for professional competitions are often grouped into regions, which can mirror those in traditional sports e.g., American football's NFC and AFC conferences. Global tournaments typically invite several prominent teams from each region to compete in an overall category. 
Identity BWW offers a connection with regional identity that is especially relevant in competitive video games. Given that regions provide a powerful sense of belonging for players and fans in a truly digital sport. 
Legacy BWW's identity value taps into the collective angst for NA esports fans. In that, the size of North America's player base makes it one of the major regions in most online games. But it lacks a history of competitive success. Nonetheless, iconic moments like Cloud9's victory at the ELEAGUE Major in 2018 are permanently etched in the fanbase's collective memory.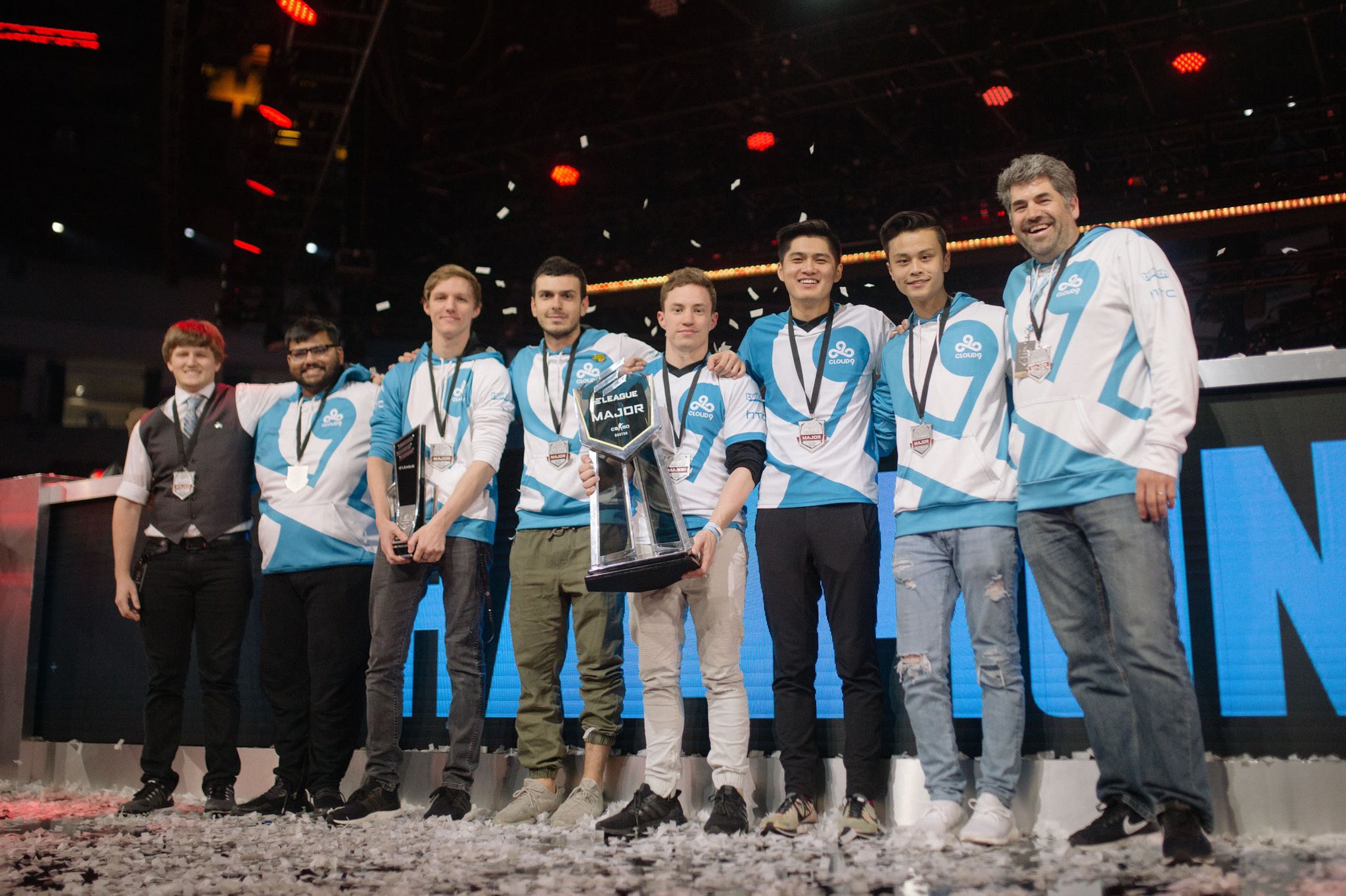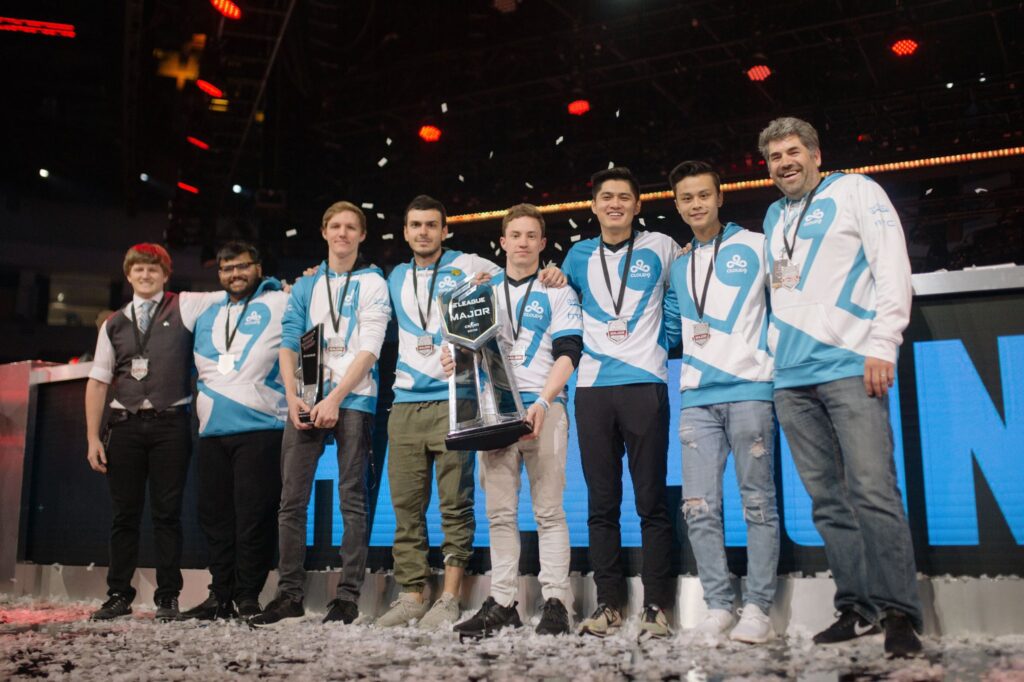 Norms & etiquette BWW's cultural branding is a vehicle for influencing norms and rituals in the esports community. Although, differences in gaming could dictate unique approaches. For instance, it might make sense to encourage a fan club atmosphere at restaurant locations instead of live watch parties since esports competitions can take place in different global time zones. 
Social relationships Similarities in offline location can still factor into the friendships created through online gaming, even if physical proximity is not critical to making connections.  
Brand presence
Cultural branding expands Buffalo Wild Wings' (BWW) brand presence in esports. One which dates to a 2016 partnership with Turner's ELEAGUE – a Counter-Strike: Global Offensive (CSGO) circuit broadcast on TBS and online.
The chain went on to host tournaments on behalf of Blizzard Entertainment's Hearthstone Fireside Gathering events and other esports watch parties. It also inked an official sponsorship with Team Dignitas, a North American-based competitive gaming organization, which included logo placement on the sleeve of Team Dignitas jerseys, player appearances at restaurants, and exclusive branded content.
However, a cultural rebrand empowers BWW to build relationships with an entire market of fans based on their membership in the NA esports community, instead of by third-party association (paid advertising). The company can then speak directly to customers from the perspective of a social hub for the region's esports community. 
Geography's fundamental role in online gaming culture – and esports fandom by relation – also helps respond to shifts in gaming. For example, the emergence of new game titles becomes an opportunity to grow brand presence through the lens of gamers' physical location.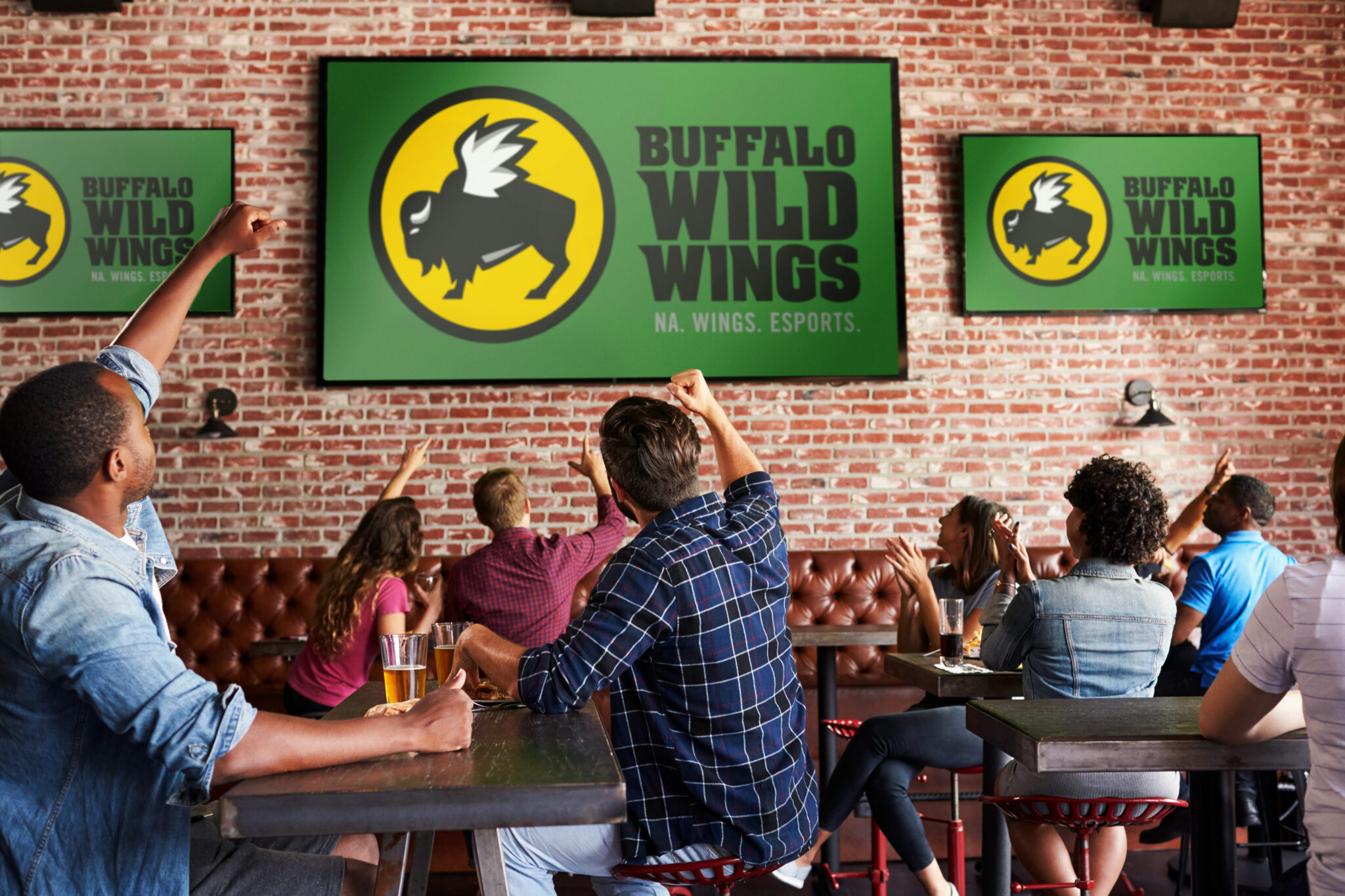 Partnerships
Esports marketing through culture creates symbolic value, which removes dependence on sponsor recall – audience recognition of sponsor name/logo/category based on association. Such that brand awareness and affinity is more likely to remain intact after a partnership ends.
Identity value, as the home for NA esports fans, promotes BWW as a symbol of togetherness for an entire region. This anchor of meaning empowers consistent and relevant messaging across partnership activations. To the point that BWW could easily expand its brand portfolio to include collegiate esports without conflict. 
Cultural territory
Buffalo Wild Wings (BWW) is currently known as the home of wings, beer, and sports. Where guests are treated to the ultimate social experience for sports fans the moment they walk through the door. As a result, BWW locations symbolize an expression of sports fandom in American culture.
Cultural branding uses identity value to deliver a similar perception in esports. The result is an authentic place in gaming culture that competitors cannot easily clone. Since it is more feasible for a BWW competitor like Applebee's to sponsor a former partner like Team Dignitas, than it is to duplicate, "The Home for North American Esports Fans."
Pursuing sponsorship without cultural branding returns low replacement value. Esports marketing through online gaming culture yields high replacement value. It also means BWW can authentically connect with esports fans as gamers. Further opening the door to brand activations that appeal to a wider audience of gaming fans.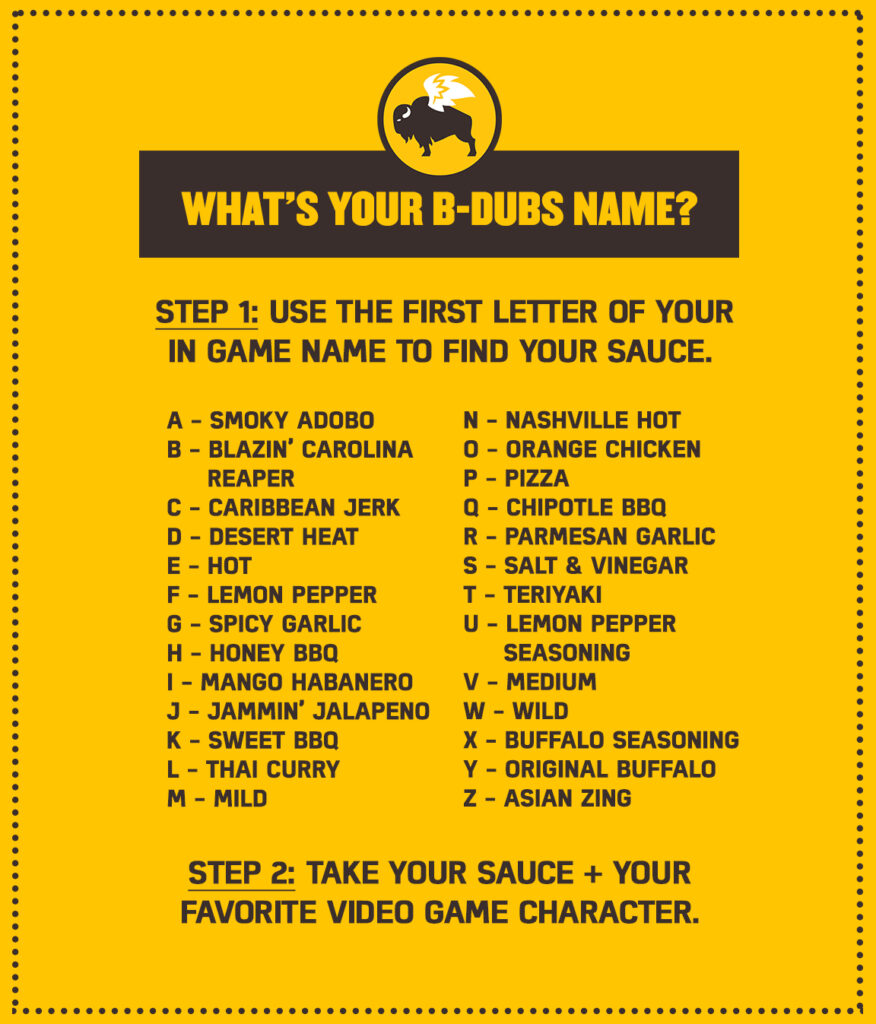 Want to read the entire guide? Click here to download (PDF).
Destination: Metaverse
The emergence of gaming as an entertainment juggernaut continues to alter the consumer landscape and upend marketing norms. Namely, a collection of digital enclaves – oriented around games – is creating a new consumer metaverse.
This metaverse – a term coined in Neal Stephenson's 1992 novel "Snow Crash"– is a futuristic collection of digital worlds that allows players to interact across platforms. The vision is for players to move across digital worlds and bring assets along for the ride. So that a Fortnite in-game cosmetic could be brought into Minecraft, for example.
In short, online gaming is a key pillar of tomorrow's metaverse. Which explains why some are predicting that the metaverse will disrupt the marketing and advertising industry like e-commerce disrupted retail. Facebook's announcement of investing $50 million to build the metaverse responsibly, only adds fuel to the fire.
One way or another, the same online gaming culture that dictates how well your esports marketing connects with gamers will apply in the metaverse. So, while many companies are still testing gaming's mettle as a marketing vehicle. As more competitors shift budget in that direction, the time to wait on the sidelines is nearing an end.
Likewise, a cultural strategy is a must-have for charting your brand's path to becoming iconic in esports, gaming and beyond. Especially since, more than any other form of entertainment, gaming captures the imagination and attention of younger generations; and marketing through its culture empowers your brand to create greater engagement, build relevance and meet business objectives. 
Want to read the entire guide? Click here to download (PDF).