This is the second entry in a three part series. Click here to download the entire guide (PDF).
Online gaming spaces are marked by a shared ethos that members participate in due to passion for games, not because they are being paid or because they seek status or power. In these tightly knit communities, games are the primary lever for emotional connections, favorable associations, and viral buzz.
This out-of-market terrain is also a fresh opportunity to meaningfully connect with younger generations. For example, competitive video games are responsible for a new media trend that, powered by attention from hard-to-reach demographics, has encouraged brands to spend an estimated $641 million on esports sponsorship in 2021 [source].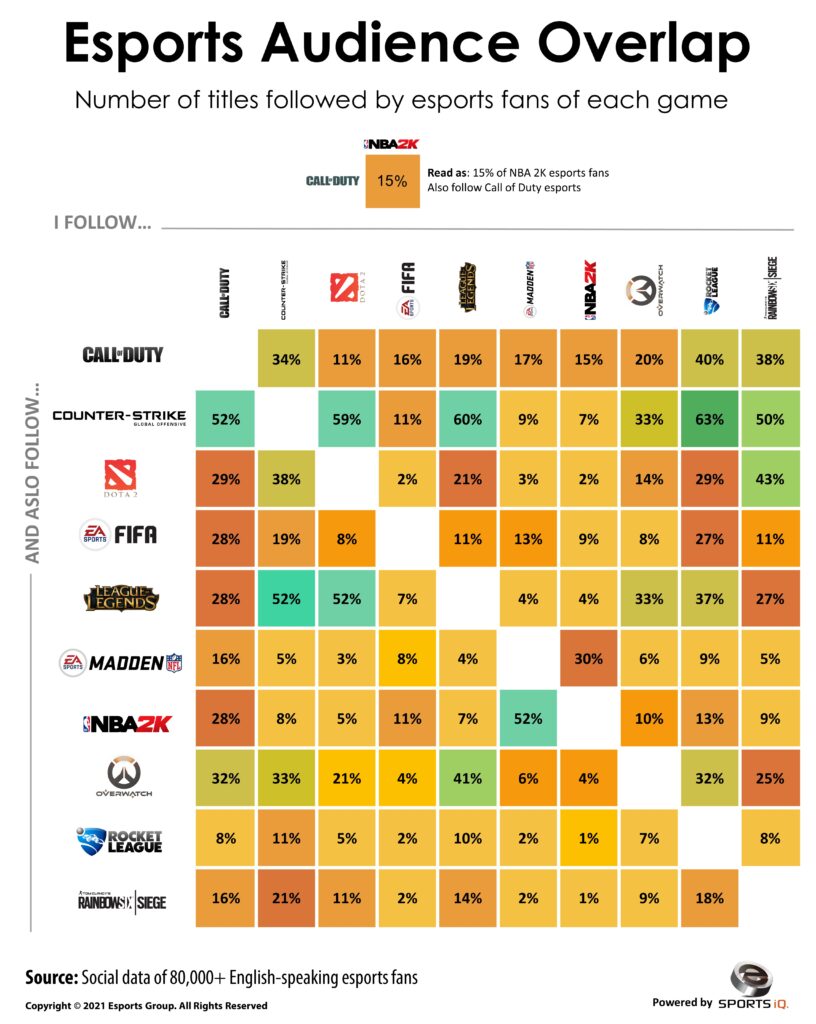 Unfortunately, the esports landscape is hyper fragmented e.g., audience interest is scattered across a multitude of games. Conventional sponsorship models, focused on identifying the appropriate segment and target messaging, are ill-suited to succeed in this challenging territory.
Plus, for companies outside the video game industry, esports sponsorship is a cross-border marketing initiative. Where brand sponsors connect with audiences via association with specific parts of a complicated ecosystem e.g., media platforms, esports companies, and/or influencers. The resulting relevance, which depends on association with a third-party, comes with certain risks.
For instance, in July 2021, the state of California filed a lawsuit against Activision Blizzard – suing the video game publisher for "frat boy" culture, sexual harassment, and unequal pay. Shortly after, several high-profile sponsors – including Pringles, State Farm, IBM, and Cheez-It Grooves – cut ties with the Overwatch League, Activision Blizzard's esports circuit.
The long-term return on investment (ROI) for all former Overwatch League partners depends on how well they spoke to fans beyond initial awareness and affinity. This is important since, regardless of the circumstances, all sponsorship agreements eventually end. And in esports, it is your brand's connection with gaming, not paid association with a company or individual, that wins customers.
On top of that, over-targeting fans and followers of a specific league, team or influencer creates niche relevance. Where the exclusion of a wider cross-section of potential customers polarizes your brand presence instead of amplifying it throughout a larger community.  
Fortunately, identity value – a clear picture of how your brand helps gamers express themselves – creates an anchor of meaning within culture. So, while sponsorship provides access to a considerable audience of passionate fans, identity value is persuasive messaging that forges long-lasting relationships.
Why? Because passion for games is core to the esports community's collective identity. Value that aligns with that shared trait is an impactful way to acknowledge and address this diverse, fragmented audience. Such that purchasing your product becomes a positive act of self-expression for all fans.
Branding through culture uses identity value to portray how your product fits into the gaming lifestyle. The resulting message resonates with both the esports and larger online gaming community because esports fandom is an expression of online gaming culture. It also builds a relationship with customers based on who they are (identity), as opposed to through a third-party association (sponsorship). 
Identity value is also a powerful marketing tactic that wins credibility e.g., being recognized as a brand that "gets it." Executed correctly, your product is promoted as a trusted vehicle for transporting consumers (gamers) to an ideal destination (enhanced self-expression).
The following campaigns utilize identity value to win cultural authenticity. All three brands deploy esports sponsorship assets to create symbolic value for gamers across the world. The ROI is a unique place in gaming culture, independent of a sponsorship agreement.  
Kia's #VoyageToInspiration 
To promote a selection of new electric vehicles, the French division of South Korean car brand, Kia partnered with esports organization Team Vitality in July 2021. The collaboration is initially focused on video content, featuring several Vitality team members and Kia electric cars.
The first digital campaign, #VoyageToInspiration, highlights the incredible journey it takes going from being inspired to becoming an inspiration. The headlining video is a nod to Vitality's founder and owner, Fabien 'Neo' Devide, who is also featured in the spot, and his personal journey in digital sport.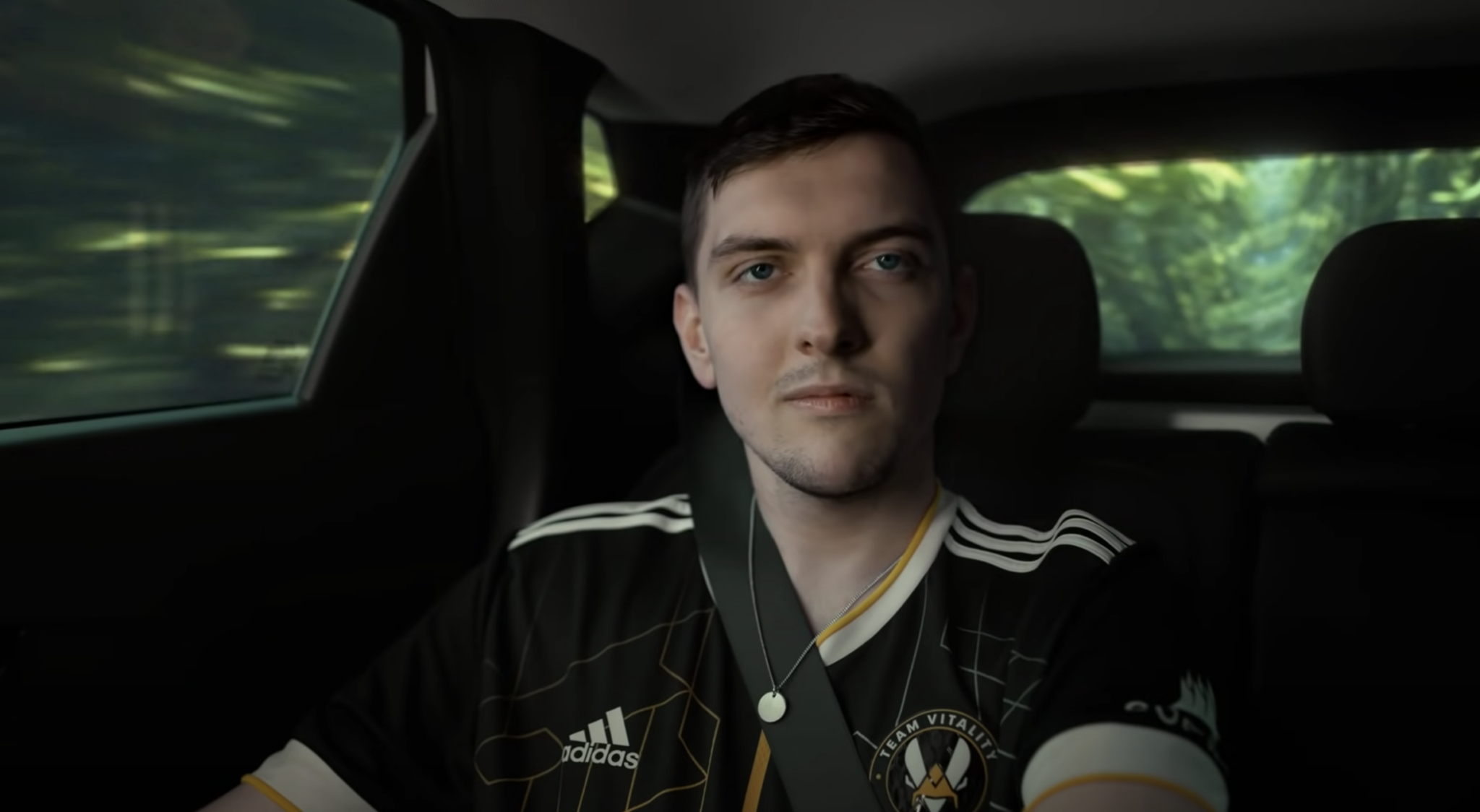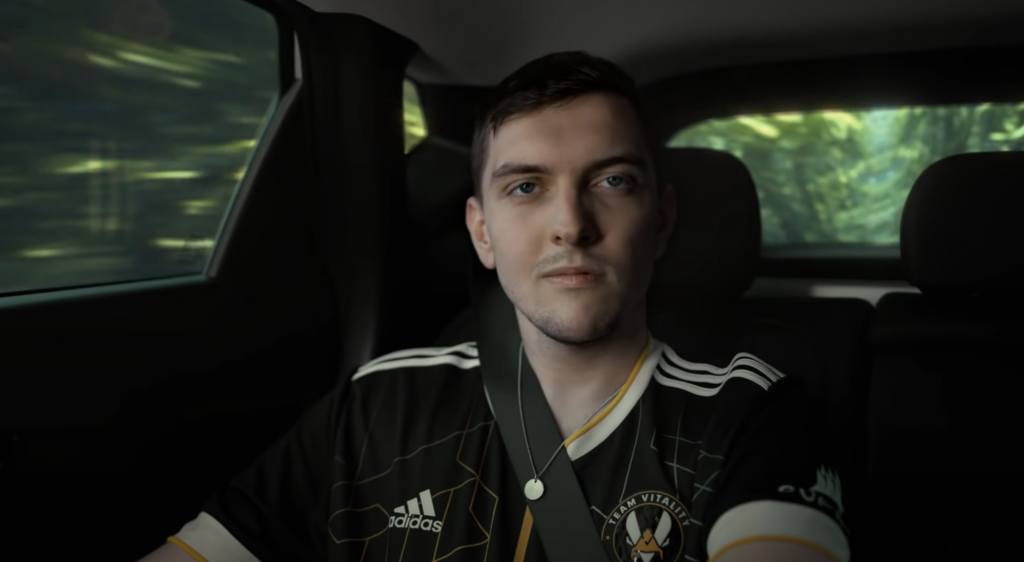 Most importantly, it avoids product benefit marketing e.g., focusing on vehicle performance, style, cost, etc. Instead, emotionally compelling music and a direct story arc portray a personal quest that connects with the shared identity of esports and gaming fans. In turn, audiences are encouraged to pursue a customer journey with Kia.
Symbolic visual elements highlight Kia's identity value – a vehicle for realizing the aspirations of gamers everywhere. One which resonates with the company's 2021 brand slogan "Movement that Inspires" and is communicated through the following online gaming cultural themes. 
Competition Neo drives a Kia vehicle, with a passenger sporting an official Vitality jersey in the backseat, towards a large sports stadium. The vehicle's voyage, shown throughout the ad, represents the drive to compete/improve/achieve in esports. 
Geography The Kia vehicle makes its way into a heavily wooded area before venturing onto an open road towards its destination. The forest trees symbolize roots in the physical world that are core to self-expression in digital (online games). 
Legacy The passenger begins as a young child but has matured into an adult by the ad's conclusion. The growing up, which takes place while the vehicle is immersed in a virtual (in-game) environment, symbolizes the impact gaming has on the personal history of younger generations. It also represents the evolution of esports, from grassroots to mainstream. 
Innovation Creative use of mixed reality provides a futuristic, in-game feel to parts of the journey. The resulting high-tech effect resonates with gamers who do not follow esports. 
Professionalism The large, open-air sports stadium, marked by a beacon of light, symbolizes acceptance of competitive video games as a legitimate sport. 
Dollar Shave Club's Boost series 
Subscription-based shaving brand Dollar Shave Club entered a deal with North American esports organization 100 Thieves in February 2021. In the deal, Dollar Shave Club is a presenting sponsor for a digital content series called Boost. In it, 100 Thieves creators are challenged to step out of their comfort zones with fresh style transformations.
The creators are popular personalities who create content on platforms like Twitch and YouTube. Organizations like 100 Thieves sign creators, who do not compete professionally, to capitalize on their large followings – which also includes esports fans.
Read the guide to esports influencer marketing to learn more.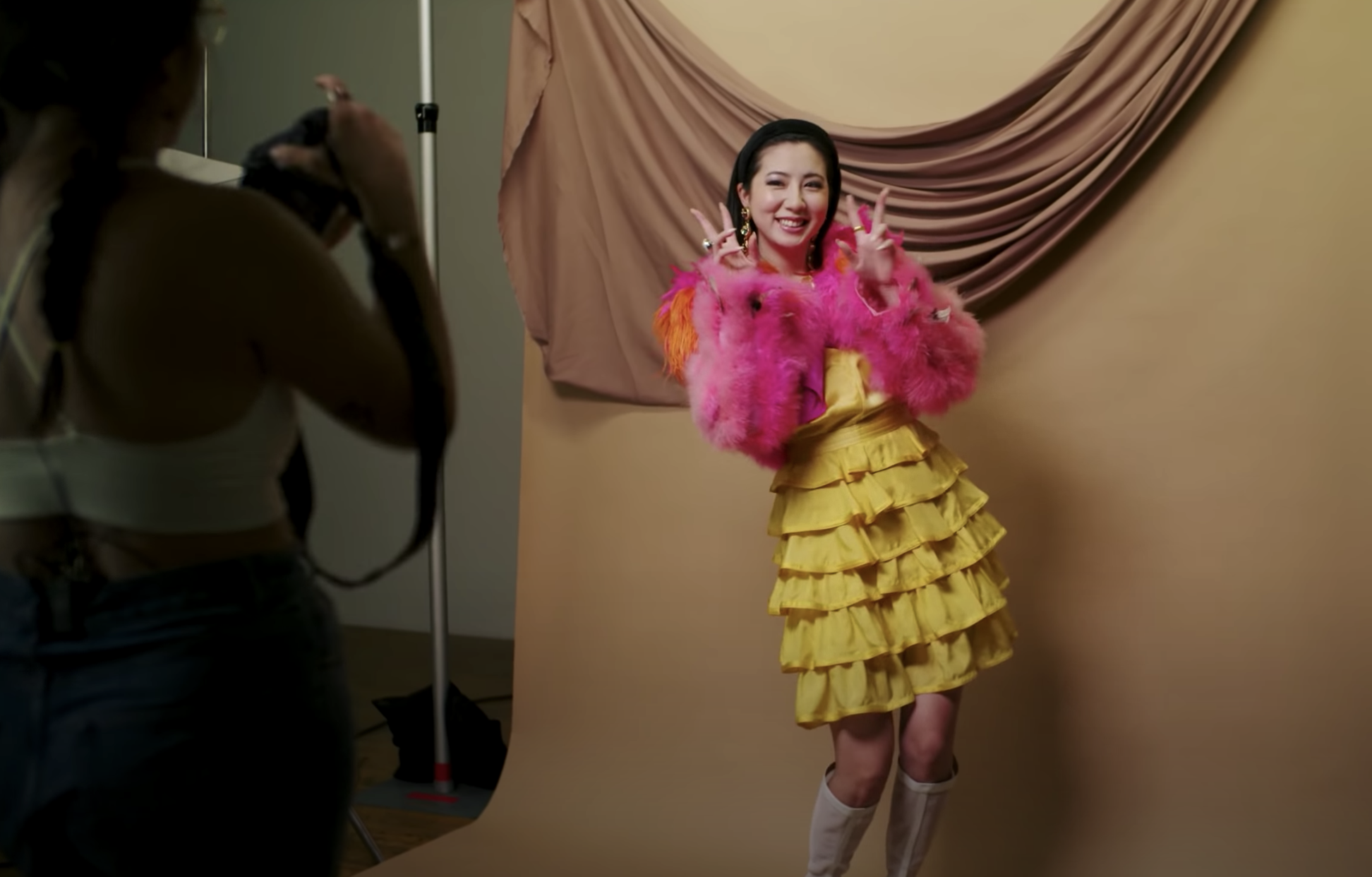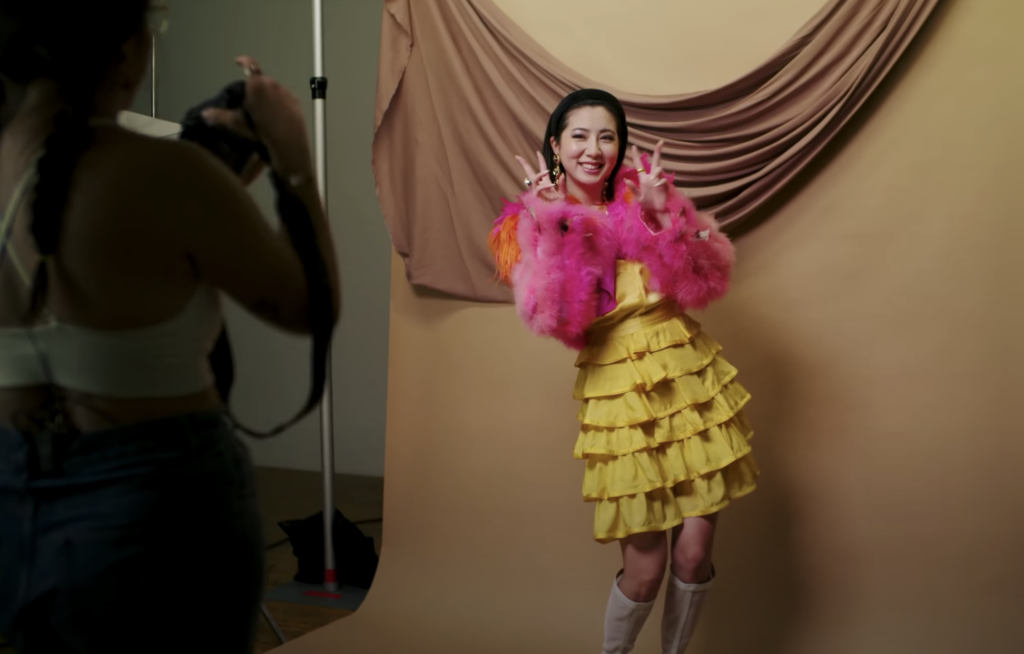 Boost episodes present identity value in the form of dream transformations authentic to the gaming lifestyle. By bringing popular creators' dream look to life, Dollar Shave Club is positioned to help all gamers improve their personal care – without resorting to awkward product placements and/or forced taglines.
The series is hosted by Alex Costa, a Brazilian-American fashion influencer, and 100 Thieves CEO/founder Matthew 'Nadeshot' Haag. In one episode, Leslie Ann 'Fuslie' Fu – a popular streamer signed to 100 Thieves – gets a style transformation modeled after one of her favorite childhood shows, Gossip Girl.
Fuslie shares details about her private life as a professional streamer and how it impacts her personal style. As an influencer, Fuslie is also a tastemaker. Similarly, her lifestyle is influenced by online gaming culture. The makeover highlights those cultural touchpoints (see below) in a way that amplifies Dollar Shave Club's brand presence in gaming.
Creativity A new wave of breakout creators have emerged from the world of online gaming. Fuslie is one such streamer who broadcasts multiple game titles, but also uses music and interviews to engage audiences. She personifies what is called a variety streamer – a creative entertainer who is not limited to a single content category.  
Fashion and style Boost's fashion transformations are particularly relevant in gaming. Where creators like Fuslie, more than in any other industry, draw large online audiences. With their personal brand key to unlocking monetization potential, these gamers are more conscious of their image and fashion sense. 
Professionalism As a professional creator, Fuslie must strike a balance between authentic self-expression and growing her audience. She is also a role model for legions of young people who aspire to combine a love of games with their career choice. Fuslie's makeover by a team of equally skilled professionals taps into this dynamic.  
KitKat's Mission Control 
KitKat, the chocolate brand produced by Nestle, expanded its partnership with Riot Games' League of Legends European Championship (LEC) esports circuit in 2021. The deal will see KitKat become the LEC's main partner, communicating its commitment to digital sport with the "Mission Control" campaign.
The campaign slogan, "Even the biggest champ needs a break," extends KitKat's previous support of LEC game breaks. It also doubles as strong identity value that promotes the brand as a symbol for good gaming habits. Especially since prolonged gaming sessions and esports competitions can be linked to an increase in stress levels [source].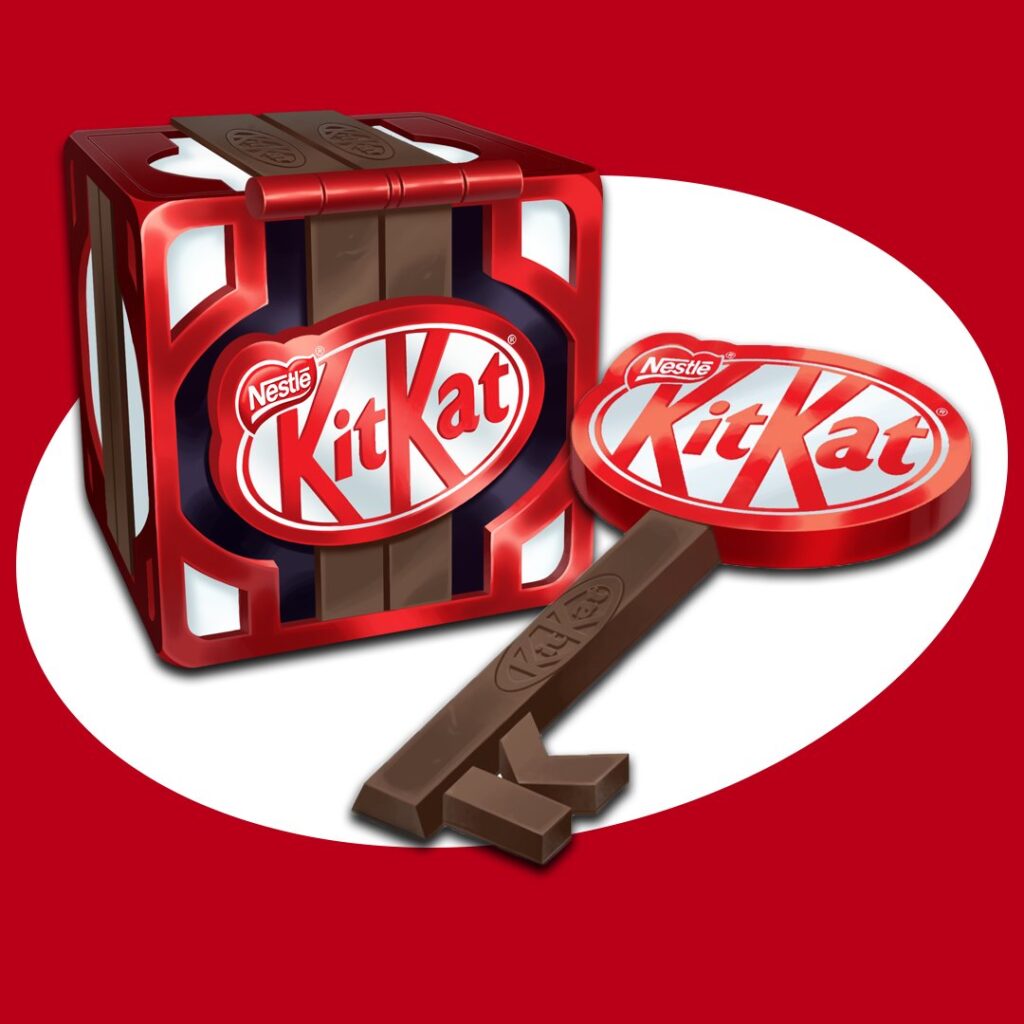 Fandom Fan culture is a driving force in the growth of online games. For esports audiences, the passion for competition and games is tied together. For example, all LEC fans are also League of Legends fans. KitKat taps into League fandom with creative promotions like prize giveaways based on the in-game universe.
Language KitKat's Mission Control advertisement depicts parts of a gamer's brain – ego, intelligence, mind, reason, and skill – on the edge of burnout. Multiple characters, played by different actors, are portrayed in a state of emergency after gaming too long. Comedic use of gaming lingo like "Elo Hell" and sharp references to "tilting" transform the 30-second spot into entertaining, culturally relevant content.
Professionalism Burnout and fatigue is a major issue in online games. With so many young people grinding to find a career – whether in streaming, competing, casting, organizing events, etc. – mental health is a key concern. KitKat's Twitter gaming account acknowledges that collective anxiety by consistently encouraging followers to take a break more often. The posts reaffirm KitKat's symbolic value in relation to healthy gaming habits. 
Want to read the entire guide? Click here to download (PDF).
Winning with culture
While the buzz and popularity surrounding competitive video games is attractive, marketers often struggle when faced with critical decision making about how to approach the market. Especially as the lines between different forms of gaming continue to blur. Regardless, esports is but one link in the chain that is online gaming culture.
To the point that developing an esports marketing strategy naturally pivots into a broader gaming strategy. And since culture is a bridge to the world of online games, branding through the culture of games should serve as the basis of a cohesive strategy.
Simply put, cultural branding attaches your product to the gaming lifestyle – through identity value – and creates the perception it is personalized for gamers. This symbolic value wins credibility and establishes a meaningful place in esports/gaming for your brand. 
Even if branding through culture does not guarantee that your campaigns will reach the entire community. It does ensure your message is relevant to a larger market of esports fans and other gamers. Meaning, esports marketing should serve the directives of a cultural branding strategy. One which charts your brand's path to icon status in the world of online gaming.
But what does effective cultural branding look and feel like? To illustrate, the following non-endemic brand has achieved icon status in esports and gaming by marketing through culture. The return on investment (ROI) is massive brand equity among highly valuable demographics that few outside the video game industry can match. 
The Red Bull formula
Red Bull, an early innovator in the energy drink market, was co-created by Chaleo Yoovidhya and Dietrich Mateschitz, and first sold in 1987. Early on, a nascent product category and expensive traditional advertising costs forced the company to pursue non-conventional marketing tactics.
Instead of spending on traditional beverage industry media like TV or outdoor advertising, Red Bull used guerilla marketing tactics to promote its brand and product to the most likely drinkers: 18- to 34-year-old-males. Soon enough, the brand began to make a name supporting athletes on the fringe of pop culture. Today, it is the number one energy drink in the world.
The brand motto, "Red Bull gives you wiiings," promotes the drink as a means of taking flight and pursuing your biggest dreams. A distinct identity value that was initially communicated through immersion in youth culture of the 90's – specifically association with extreme sports. Over time, this expanded into other areas like aviation and music.
The energy drink maker also began sponsoring professional video game players in 2006. Currently, Red Bull has an impressive presence in events, training facilities, and content creation geared towards the gaming community. This outstanding record of execution puts Red Bull in a category by itself, compared to most non-endemic brands.
Red Bull successfully adapted its motto to, "Giving wiiings to gamers!" A theme which also sums up its identity value in esports and gaming. An equally strong background in traditional sports, events, and media production empowers the brand to deliver meaningful experiences that uplift the global community of gamers.
Whether in organizing tournaments, or compelling storytelling, or sponsoring creators the brand speaks to all gamers saying, "We are with you and one of you." Marketing through culture has also enabled Red Bull to avoid pitfalls that ensnare other non-endemic brands.
To illustrate, after entering esports in 2013, global beverage brand Coca-Cola made waves with several well-received partnerships. However, Coca-Cola's esports marketing did not communicate how the beverage fits into the online gaming lifestyle.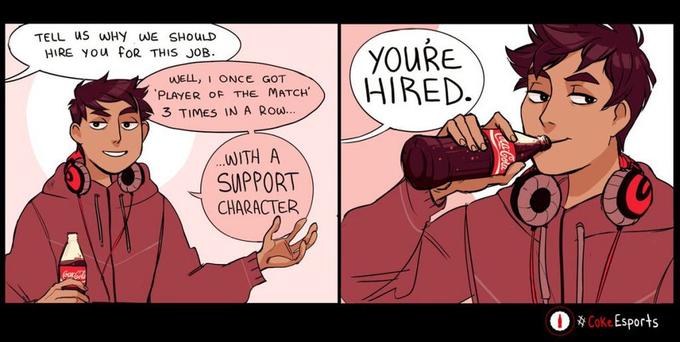 As a result, the now inactive Coke Esports Twitter account became known as a source of cringeworthy webcomics about gaming, many of which became memes. Mostly because the comics failed to authentically connect the brand with culture. Instead, the message was "Drink Coke because we're an esports sponsor."
On the other hand, Red Bull's brand marketing is immersed in the culture of games. From creating documentaries on game development to a podcast series highlighting gaming celebrities to augmented reality (AR) games featuring popular creators, the company's brand presence covers the depth and breadth of the culture.
Keep in mind that functional product benefits are absent from marketing communications. Instead, the identity value of giving wings to people and ideas is consistently expressed through involvement in culture. In turn, purchasing and drinking Red Bull energy drinks is promoted as a ritual for gamers across the world.
While niche alternatives like GFuel are scientifically designed to meet the demands of gamers. A strong connection with culture creates the perception that Red Bull is on-par as an energy drink for the gaming lifestyle. This symbolic value is especially powerful in non-endemic brand categories.  
Even competitive events like Red Bull Wololo V: Enthrone are dripped in cultural themes. The 1v1 Age of Empires II Definitive Edition competition starred the world's best players against each other in a custom version of Empire Wars (Creativity).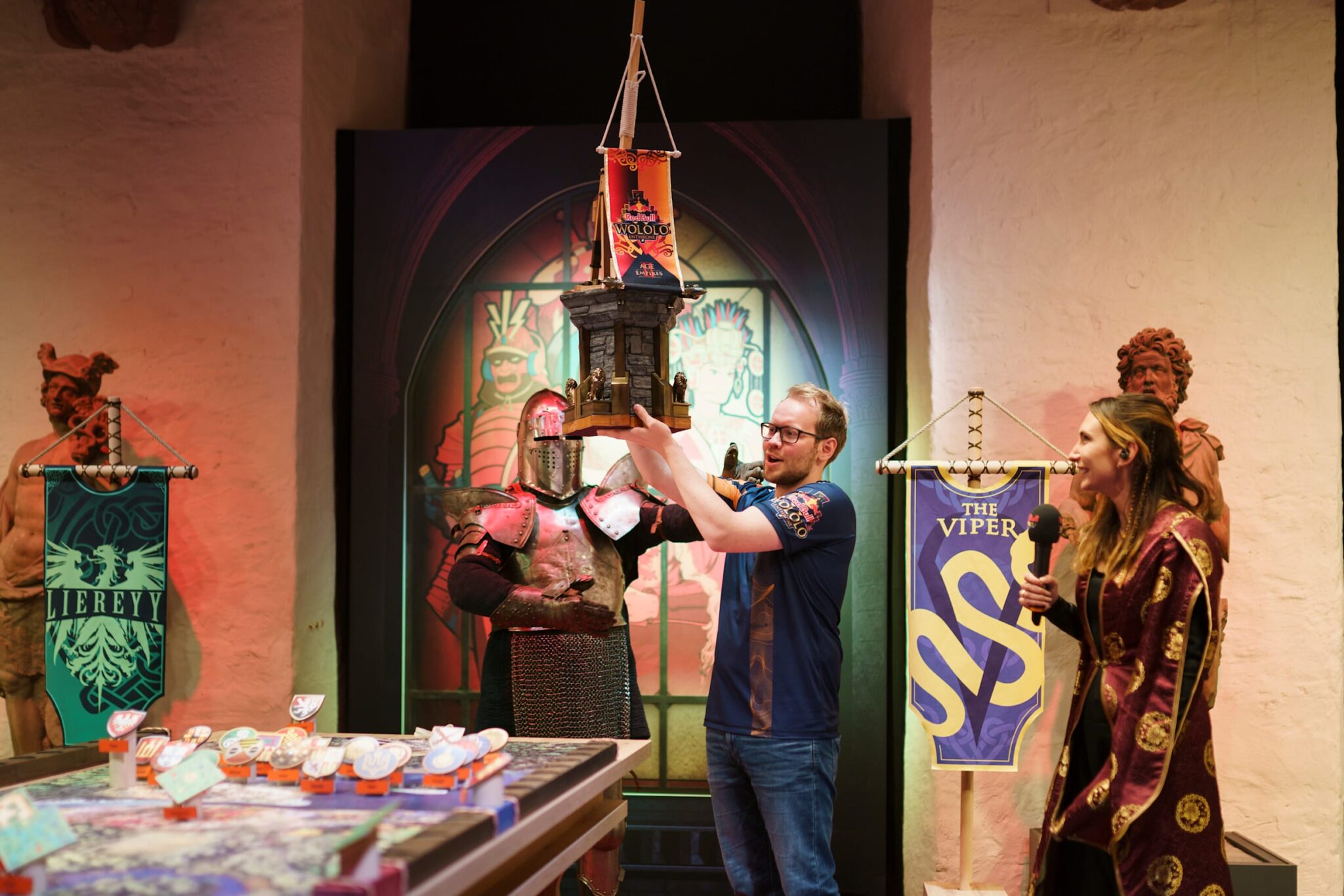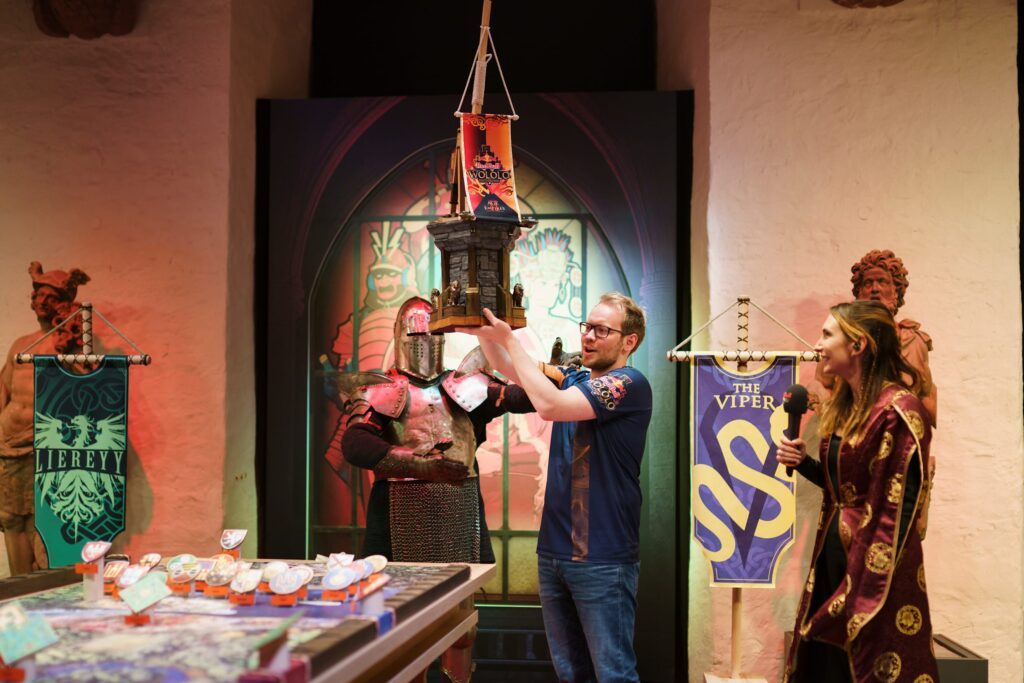 The LAN final (Events) took place against the backdrop of a transformed Gothic Castle Heidelberg in Germany (Geography). Audiences were transported back in time by players and casters decked in Medieval-themed cosplay (Fandom, Fashion & Style) that perfectly matched in-game content.  
Providing impeccable entertainment and spectacle (Professionalism) for a 20+ year old game community (Legacy) resonates with the brand's identity value of giving wings to all gamers – not just fans of the newest, trendy game genres and titles. The community's moment of recognition that Red Bull "gets it," creates a strong emotional connection with the brand. 
Red Bull has achieved icon status by consistently creating moments of recognition across the entire spectrum of online gaming. A path which your brand can follow by embracing cultural branding principles. 
Want to read the entire guide? Click here to download (PDF).