"We're overwhelmed by the initial interest and excitement in VALORANT. We have massive dreams for what this game can be as an esport, and we're excited to embark on this long esports journey with our players,"

Whalen Rozelle, Senior Director of Global Esports at Riot Games via InvenGlobal
VALORANT – Riot Game's new tactical shooter title – is still in closed beta but is already generating buzz. For example, several gaming organizations and professional players are eyeing the competitive scene.

Anticipation of VALORANT's esports emergence is somewhat premature, but not surprising – given Riot's pedigree and vision for the game. So, it's safe to say that the title will affect the complexion of esports moving forward.


Numbers don't lie
To chart VALORANT's prospects across the competitive video game landscape, let's take a data-driven look at its player community.

Approach: Utilize eSports iQ to profile the social data of 3,000+ English-speaking VALORANT gamers.

Objective: Highlight factors affecting the game's esports growth potential.


Overwatch League competition
Blizzard's Overwatch League (OWL) is still finding its footing even after selling franchise slots for north of $30M. So, Riot's launch of a similar game is likely to influence its growth prospects.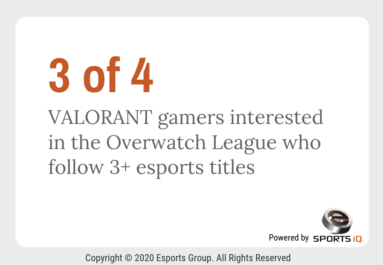 Reality: 3 out of 4 VALORANT players interested in OWL follow a total of 3+ esports titles. Whereas, just 7% follow OWL only.

What it means: Competitive VALORANT will largely draw from an already fragmented OWL audience.


Riot effects
As publisher of the world's top esport title, Riot Games is in a unique position to launch another game with competitive potential. The Tencent owned company can leverage League of Legends' player base (~100M) and existing esports ecosystem (100+ pro teams).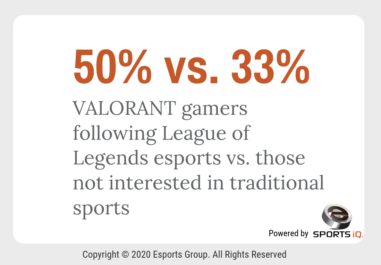 Reality: 1 out of 2 VALORANT gamers follow League of Legends esports. And, 1 out of 3 aren't interested in any traditional sports.

What it means: Crossover interest in League of Legends esports should help, not hamper, competitive scene growth. Further down the line, there is opportunity to increase mindshare among the sizable contingent of players who aren't into physical sports.


Organic demand
VALORANT is already attracting a strong proportion of esports fans. Obviously, the game needs work before an official launch, let alone professional play, but the audience demand is there.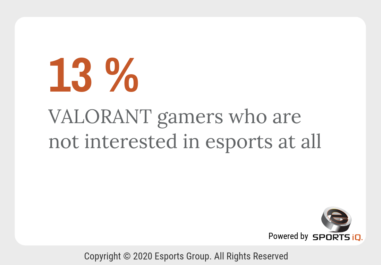 Reality: Only 13% of VALORANT gamers are not interested in esports.

What it means: The early wave of VALORANT gamers exhibit a strong disposition towards esports consumption, which is positively related to an organic competitive community.

eSports iQ uses AI/machine learning to produce audience analytics that help you understand digital sport fans, their interests and how to interact with them.
---