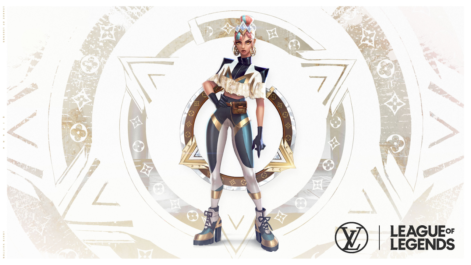 League of Legends Sponsorship ROI
November 6, 2019

Tags: esports sponsorship ROI, esports audience analytics, esports brand marketing, League of Legends

Categories:analytics, Insights, eSports iQ, Sponsorship
"Louis Vuitton has long been associated with the world's most coveted trophies, and here we are today, alongside the Summoner's Cup. We are thrilled to be part of such an iconic event."

Michael Burke, chairman and CEO of Louis Vuitton via AdWeek
Fashion brand Louis Vuitton recently teamed up with Riot Games – in connection with the League of Legends World Championship 2019. The collaboration includes an exclusive Trophy Travel Case to hold the Summoner's Cup, awarded to the tournament champions, and a one-of-a-kind skin for the game. The latter, True Damage Qiyana Prestige Edition, has the champion's weapon covered in the iconic Louis Vuitton pattern. 


Strength in numbers
The World's grand finale, set in Paris on Nov. 10, is a great entry point for the French fashion house to reach fans of the world's top esport title. Likewise, to highlight sponsorship ROI, let's evaluate Louis Vuitton's brand lift among League of Legends esports and gaming audiences. 

Approach: Use AI-powered features in eSports iQ to compare social media posts containing LV brand mentions, before and after the partnership. 

Result: Insight into Louis Vuitton's esports marketing ROI.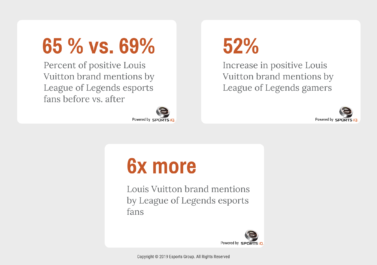 Key takeaways
League of Legends esports fans and gamers mentioned Louis Vuitton more often and in a more positive tone since the partnership announcement on September 23rd:
Percent of positive brand mentions by League of Legends esports fans increased from 65% to 69%
52% increase in positive brand mentions by League of Legends gamers
6 times more total brand mentions by League of Legends esports fans
Looking ahead
While the partnership is just beginning to take shape. See: Nicolas Ghesquière – Louis Vuitton's artistic director of women's collections – is also designing a capsule collection and additional digital items.  

These insights already show lifts in brand awareness, favorability, and brand interest – directly attributed to association with the League of Legends community. 

Ultimately, Louis Vuitton's approach is a solid use case for non-endemic brands reaching both esports and gaming audiences via partnership with a game publisher. 

eSports iQ uses AI/machine learning to produce audience analytics that help you understand digital sport fans, their interests and how to interact with them. 
---