LCS, Inc.
August 24, 2016

Tags: eSports business, LCS, Riot Games

Categories:Analysis, Industry
Recent public disagreement between Marc Merrill, who is co-founder of Riot Games – publisher of League of Legends, and Andy "Reginald" Dinh – owner of Team SoloMid, one of the longest-running and venerated eSports clubs in North America – it's clear that the #1 eSport in the world is a house divided. On one hand, Riot Games seems to think that League Championship Series (LCS) team owners are raking in millions. Despite, there being some serious evidence to the contrary. On the other, LCS team owners desperately want business prospects to improve.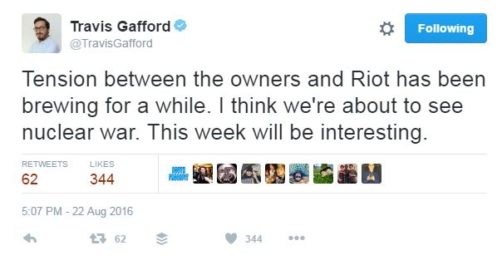 Overall, this is a complex and multi-layered issue. Yet, it's clear that the business of creating wildly popular games like League of Legends is too far removed from that of owning an eSports team. To bridge the gap, Riot Games should consider a spin off their eSports division into a separate company. One that is structured like a professional sports league, with shared ownership across participating teams.
LCS, Inc.
Unfortunately, Riot and LCS team owners are stuck in a race condition. Teams desperately need additional revenue streams – to offset the rising risks and costs of ownership. But, Riot does not monetarily benefit from an increase in team revenues and/or valuations. As the company's eSports division is currently structured, more money for teams does not mean more money for Riot. Basically, there is no intrinsic business value in helping team owners make more money, outside of it being a fair/good thing to do.
Yes, team owners like Mr. Dinh have more than earned the right to more revenue generating opportunities. And yes, Riot reportedly generated $1.6 billion from League of Legends in 2015, and could afford to invest more into LCS. But, Riot Games is a commercial enterprise wired to respond to profit incentives, not produce just decisions. Therefore, a smaller, leaner and separately run startup responsible for LCS eSports – owned by parent company Riot Games and team owners – would create real incentives for both parties to grow the LCS collaboratively.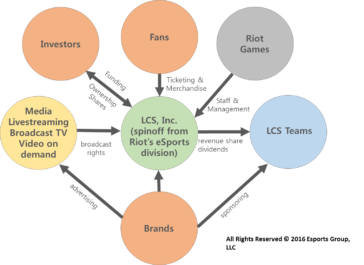 Most importantly, it could create a stronger capitalization model. Today, investments in the LCS are limited to capital expenditures by Riot (costs). A spin-off would justify initial costs in creating the company by opening the door to outside VC-style investment rounds, and ROI multiples. The equity sold could then be re-invested in the eSports ecosystem – e.g. increasing player salaries/benefits.
Monetization of combined LCS merchandise, content and rights would provide immediate revenue. While the sheer reach and popularity of professional League of Legends eSports would attract a healthy valuation from potential investors. Snapchat is valued at $20 billion. So a company built around a massive eSports platform with strong engagement among similar demographics – couldn't be far behind.
Who benefits?
Spinning off divisions into smaller, more agile companies has proven profitable in basically every other major industry – and eSports should be no different. Here's how both parties would benefit:
Riot benefits
Maintaining total control over the game intellectual property (IP). There's basically zero risk in sharing control of LCS, Inc. because nothing can happen without League of Legends IP. The threat of investor and/or team owner discontent is all significantly mitigated.
Valuation increases. As currently structured, the LCS can only make as much money as it generates, e.g. there are no accelerating returns. Ownership of a (majority) share of a company with actual growth prospects is better than hoarding control of a stagnant internal operation.
Better visibility – In exchange for allotting ownership shares, Riot could enforce better visibility into the people behind organizations with LCS teams. In the world of eSports, more transparency is a good thing.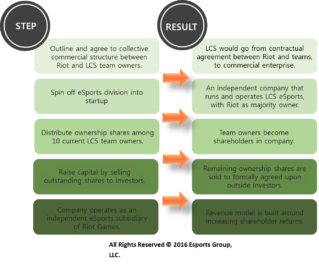 Teams benefit
"The bottom line is that an LCS stipend only covers a fraction of the cost of an LCS team's operations…revenue from team sponsors is absolutely necessary, but the current LCS system is leading team sponsors to reduce support or – much worse – consider shifting support to eSports other than LoL."

— Andy "Reginald" Dinh, in response to Marc Merrill 
More revenue. LCS team owners are in favor of a franchise system that eliminates threat of losing a spot via relegation. However, revenue maximization isn't likely under the current system, regardless if franchising is introduced.
Healthy team valuations. Ownership of shares in a standalone commercial vehicle devoted to the LCS would help soothe investor concerns. Team values could climb sustainably if team owners were allowed to liquidate a portion or all of their shares, in the event of relegation.
Shared prosperity – While some have called for a union for teams to combat Riot's control over the LCS, the larger issue is a lack of membership perks. Owners of teams in traditional sports leagues function as conglomerates because it's profitable. Esports should be no different. Owning shares in a high growth company, built to maximize profit is a good perk.
Outlook
Currently the balance of power between Riot and LCS owners is unbalanced – in favor of the former. Should things continue this way, LCS teams will soon become a stagnant money sink for team owners. Yet, it will be difficult for Riot to justify invigorating the business prospects for LCS teams, unless it has a shared financial stake in their success. A spin off company would create a commercial vehicle for a truly profitable LCS, for all involved.
---
Join the eSports industry's #1 weekly newsletter for FREE! http://eepurl.com/b_Cca5