This is part one of a three part series. Click here to download the entire guide (PDF).
There are good stories and there are bad lies. Or, as Seth Godin put it in All Marketers are Liars Tell Stories, "Everyone is a liar…The stories we tell ourselves are lies that make it far easier to live in a very complicated world." Godin continues, "Marketers lie to consumers because consumers demand it…People can't handle the truth."
Godin's hyperbole aside, marketers are not liars nor is storytelling synonymous with lying. In fact, stories are one of the most powerful and effective ways to communicate. This is no less true in the realm of electronic sports (esports) – which McKinsey defines as, "a specific subset of online gaming with a focus on the competition between human players…in a video/computer game with predefined rules."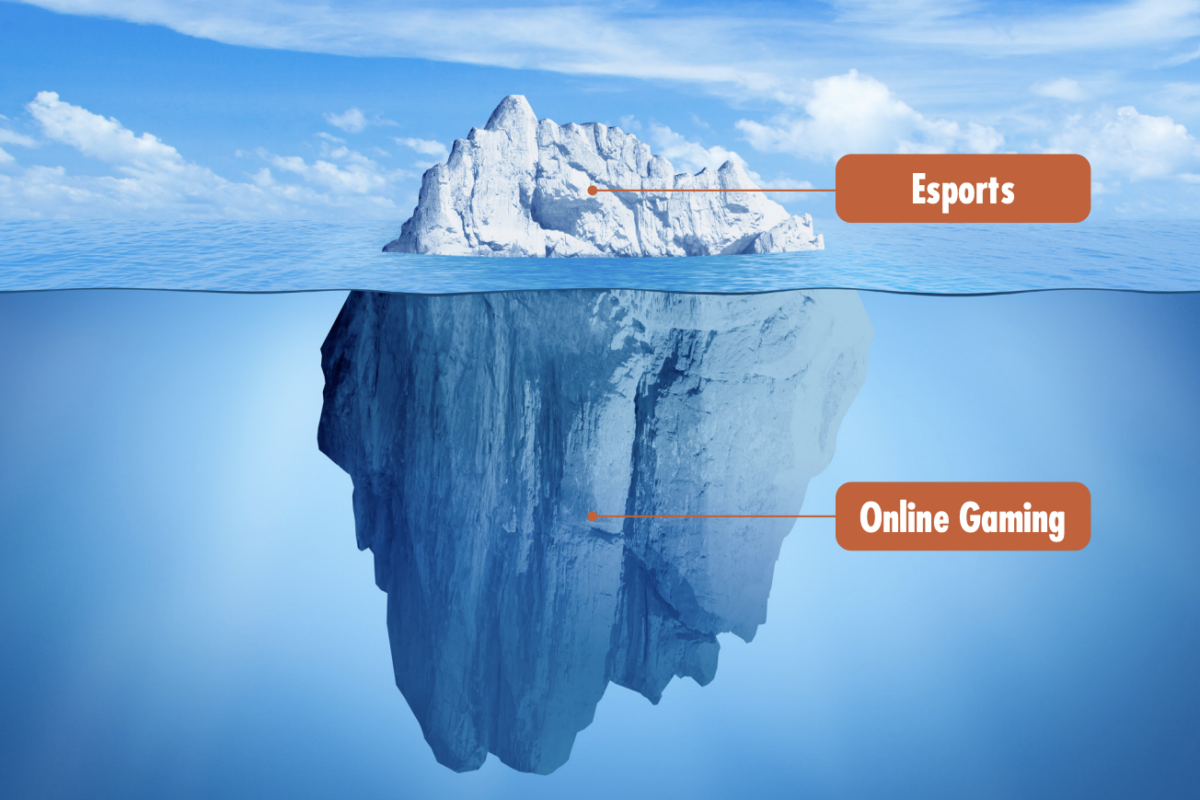 Esports attracts hard-to-reach audiences that are passionate about competitive video game play. For brands and marketers, it is also a gateway to the large, untapped world of online gaming populated with digital-native consumers. This guide details the ins and outs of storytelling, so you can authentically speak to these audiences and realize the massive growth potential.
Want to read the entire guide? Click here to download (PDF).
Introduction
Video games are the latest incarnation of games that have entertained people since the dawn of humankind. The rise of high-speed Internet has spurred emergence of popular online worlds that attract hundreds of millions of players. Case in point, the world's 2.9 billion gamers will spend an estimated $175.8 billion on games in 2021. [Source: Newzoo]
Gaming is even more popular among younger generations: 87% of Generation Z vs. 83% of Millennials vs. 79% of Generation X play video games on smartphones, gaming consoles, and computers at least weekly if not daily. [Source: Deloitte]
Similarly, esports is defined by watching other people compete at video games. Meaning, all esports fans are gamers – but not all gamers are esports fans. The esports segment over-indexes among the coveted 18-34 age group, is not easily captured by traditional sports, nor does it not respond to traditional advertising. For instance, 78% of esports fans in North America are not likely to be influenced by online ads. [Source: eSports iQ audience analytics]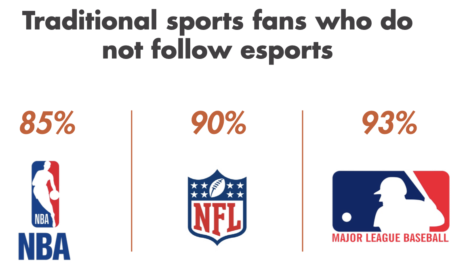 Growing popularity will push the global esports audience to an estimated 474 million in 2021 – which could grow to 577 million by 2024. All of which has encouraged brands to spend an estimated $641 million on esports sponsorship in 2021. [Source: Newzoo]
Since esports audiences are particularly hard-to-reach, sponsorship is currently considered the go-to marketing channel – especially for non-endemic brands. Where Comcast Xfinity, Louis Vuitton, Mercedes Benz, and Mountain Dew are among a growing number of esports sponsors. However, only when brands build an emotional connection with individual fans does the sponsorship translate to positive consumer actions (ROI).
Stories tap into emotions in a way that logo association cannot match. Plus, as a universally recognizable format, they help brands become culturally relevant to esports audiences spread across the world. This is especially important in a digital world where compelling content, not ads, is the key to winning attention and engagement.
Likewise, storytelling is more than just a subset of your content strategy. The following is methodology and illustrative examples for creating powerful marketing stories that emotionally connect with esports audiences. Upon completion you will understand what esports storytelling is, what it is not and how to use it as a brand marketing tool.
Want to read the entire guide? Click here to download (PDF).
Powerful storytelling
Marketing stories are purpose-driven narratives that portray your brand as memorable, relevant, and significant. However, many still confuse stories with closely related concepts. So, it is important to establish what a story is: An escalation of goal-directed, action-outcome sequences in a character's life.
Research shows that the brain responds to story differently, causing what is known as transportation – or a feeling of total immersion in the narrative. [Source] Transportation causes you to view the story's protagonist(s) more favorably and embrace any beliefs and worldviews presented. This effect is why stories are so effective at instilling principles and shaping human behavior.
Storytelling primes the audience's mind to absorb messaging without pausing to deconstruct or doubt what is being said. Similarly, the goal of a good marketing story is to make you feel something while delivering the intended brand message, almost undetected. Stories are well suited for 21st century marketing communications – as more people revolt against interruptive advertising.
The emotional connection between a consumer and brand is based on personal accounts that incorporate the product or service. That means customers will construct a story, in their own mind, for your brand based on their experiences and perceptions. Effective marketing stories provide the emotional narrative that you want remembered instead.
Stories cut across cultural boundaries, age differences, and any other dividing aspect of humanity. In that way, storytelling is a universal language. Meaning, while good marketing stories are designed for a target audience, they can be understood by every human being on earth.
This powerful dynamic is particularly useful in esports marketing, where consumer attention is spread across a multitude of video game titles. Brands and marketers face the reality that it's nearly impossible to reach the entire audience through mass marketing. For example, sponsorship of an individual esports league – no matter how popular – is not relevant to fans who do not enjoy that specific game title.
Conversely, effective marketing stories entertain, engage and can be shared across the whole of esports and online gaming. The same cannot be said about other any other form of marketing communication. This feature, alone, elevates storytelling to a must-have for your overall esports marketing strategy.
Keep in mind that your brand story is different from a marketing story. The former replays your company's origin in relation to its mission today. In other words, your brand story is a chronological narrative that primarily appeals to the rational part of the brain.
On the other hand, great marketing stories are emotion focused narratives that communicate a message – your mission, values, intended customer action. Blue-chip brands like Apple, Disney and Nike tell stories that humanize their products through an emotional lens. The ROI is in millions of dedicated fans and customers across the world.
Want to read the entire guide? Click here to download (PDF).
Getting it right
Storytelling captures audience attention and showcases your brand's values without coming off as overly promotional. It is an effective marketing vehicle for bridging the gap between initial awareness and ongoing affinity because everyone loves a good story. To demonstrate what a good esports marketing story looks and feels like, here are examples of the technique in action.
BMW's Heroes of Rivalry
Blue chip automaker BMW employed storytelling to create a manga series, Heroes of Rivalry. The use of manga – an art form with roots in Japan and millions of fans worldwide – allows BMW to wrap its brand messages in emotions. Like video game titles, popular manga series, such as Dragon Ball, amass recognition across the globe. Manga also provides a unique, eye-catching canvas for entertaining esports fans in a way that's more effective than display ads or jersey logo placement.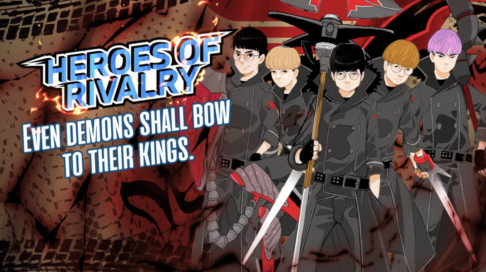 The series taps into the competitive spirit of esports passion – by developing characters based on professional gamers and the rivalries that have developed between them over the years. BMW gains audience trust by recognizing competitive video games as a sport, then delivers authentic storylines in keeping with those values. The stories build rapport with esports audiences by striking a balance between powerful positioning and subtle persuasion.
Grubhub Gamer
As the popularity of esports grows, food delivery platform Grubhub has committed to becoming synonymous with digital sport. With the goal of making Grubhub-and-Gaming a new favorite cultural pastime, like Netflix-and-Chill, the brand has rolled out several story-driven shorts featuring a fictional character – Grubhub Gamer (GG). These storylines fuse food delivery with geek culture in a funny and likeable way.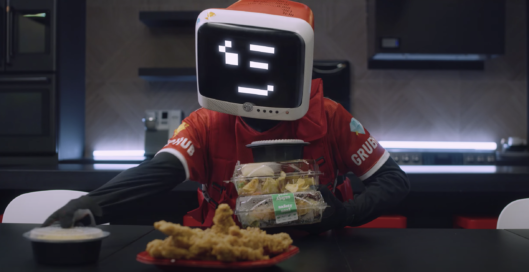 One of the shorts depict GG trying out for an esports team. Pop culture references from sports and 80's movies add a snarky/comedic tone to the story. The character personifies Grubhub's brand identity and doubles as a narrative anchor by unwittingly tying everything, no matter how seemingly unrelated, back to food.
The DHL EffiBOT
Shipping and logistics company DHL has leveraged innovation to create robot technology for automated order picking. The robot, called EffiBOT, is a fully automated trolley that follows workers through DHL warehouses and takes care of most of the physical work. As part of an effort to share its brand message with esports fans across the globe, DHL storified EffiBOT (Effi) into an in-game courier for Valve's Defense of the Ancients (Dota) 2.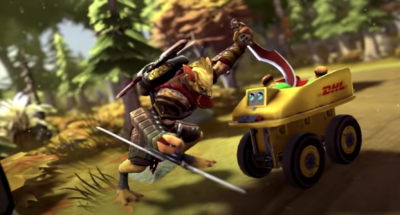 The story shows Effi on a harrowing delivery route through the fictional Dota 2 universe. Where it must navigate challenging terrain and heavily armed, antagonistic characters on the way to its destination. Unarmed and seemingly defenseless, Effi faces long odds.
The audience is drawn into rooting for the underdog and rewarded when the journey ends with a successful delivery. The story uniquely projects DHL's brand personality into the online gaming sector – to meet the need for differentiation in the highly competitive shipping and logistics services market.
Want to read the entire guide? Click here to download (PDF).