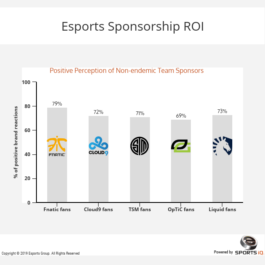 Esports Sponsorship ROI
May 15, 2019

Tags: audience analytics, eSports iQ, IBM Watson, AI, eSports marketing, eSports sponsorship, ROI

Categories:analytics, Fans, eSports iQ, Marketing, Sponsorship
"We are at a tipping point where more than ever before, brands are seriously looking at esports as a massive marketing opportunity."

Adrian Staiti, Executive Vice President, Global Partnerships at Lagardère Sports via Esports Insider
The secret is out: Competitive video games are a bona-fide marketing platform for reaching younger audiences across the globe. So, it's no surprise that each passing week brings news of another brand taking the esports plunge.  

Accordingly, sponsorship is projected as the leading individual revenue stream worldwide at $456.7 million (Newzoo estimate). All of which, when coupled with the surge in esports team investments, puts sponsorship return on investment (ROI) squarely in the crosshairs.  

Specifically, what is the impact of esports team sponsorship? 


Strength in numbers
To provide a data-driven perspective, we put our eSports iQ analytics engine to work. 

The task: Transform social data points from 100,000+ fans and supporters of five leading esports organizations – Cloud9, Fnatic, Team Liquid, TSM, OpTic. 

Approach: Utilize IBM Watson AI to determine the percentage of positive, non-endemic brand sponsor mentions.  

The result: Insight into how well these organizations – valued at an average of $202 million according to Forbes – deliver positive reactions for non-endemic sponsors. See visual below: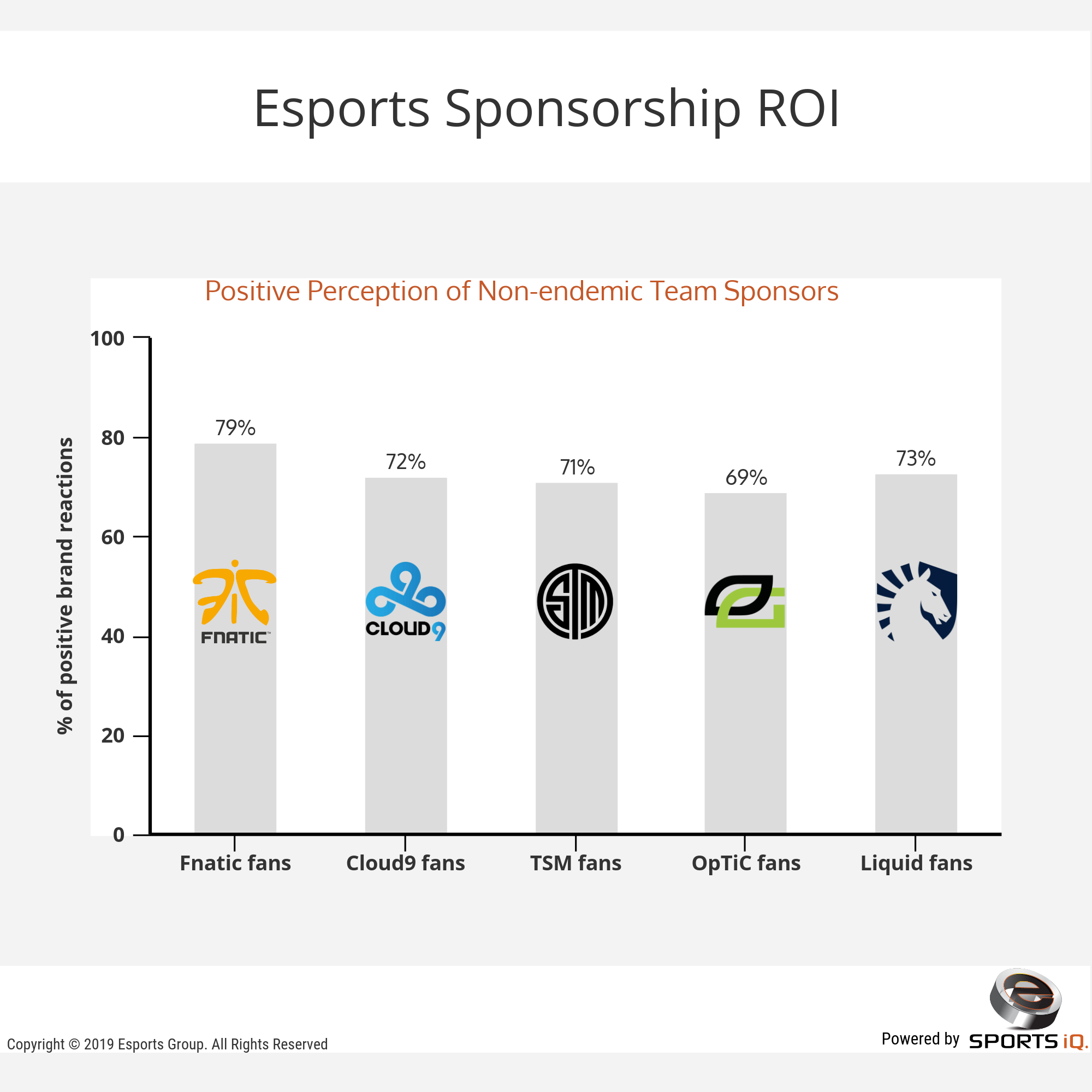 Why it matters
The writing on the wall is clear: Growth – e.g. nine figure team valuations, seven figure sponsorship deals – means more responsibility. And since emotional connection holds the key to sponsorship success, it's critical to measure how well various partnerships deliver.  


Looking ahead
We're forging ahead on the commercial version of eSports iQ, due in July 2019. Stay tuned for more updates as the date draws closer. As always, please don't hesitate to send your feedback! 

eSports iQ uses AI/machine learning to produce audience analytics that help you understand digital sport fans, their interests and how to interact with them. 
---