Content marketing is a strategic marketing approach focused on creating and distributing valuable, relevant, and consistent content to attract and retain a clearly defined audience

Content Marketing Institute
The following explores a content marketing use case to illustrate three must-haves for non-endemic brands creating high-quality gaming content.
The focus is on how to create the right content, as opposed to an overall content marketing strategy, because you do not necessarily need a new/specific content strategy for the gaming market. Instead, your existing approach can be optimized to meet the unique needs and desires of gamers.
This might entail employing new formats and channels, or it may mean sticking to what already works. However, and most importantly, the general principles for effective content marketing still apply without exception.
Here is what you need to know:
Content marketing is the digital marketing activity responsible for creating and curating the right type of content for the right audience 
Gaming content can take shape as social media posts, blogs, etc. – not just video 
Non-endemic companies can connect with the same hard-to-reach audiences who follow popular gaming influencers using effective content marketing
Involve gamers
Content by itself may, or may not, have an explicit aim. Content marketing, on the other hand, is meant to attract an audience and drive specific customer actions. So, instead of pitching products or services, you are delivering high-quality content that is relevant to an audience.
CarsForSale.com – an online used car marketplace – nails this concept with a selection of blog posts on its website which highlights the role cars play in pop culture entertainment e.g., movies, TV shows, video games, etc.
One such entry, Rocket League Cars in Real Life, is based on the author's (Jesse McGraw) first person account of playing Psyonix's Rocket League game title, in which players use various cars to play soccer. The post highlights 20+ cars which are either available and/or have reviews on CarsForSale.com.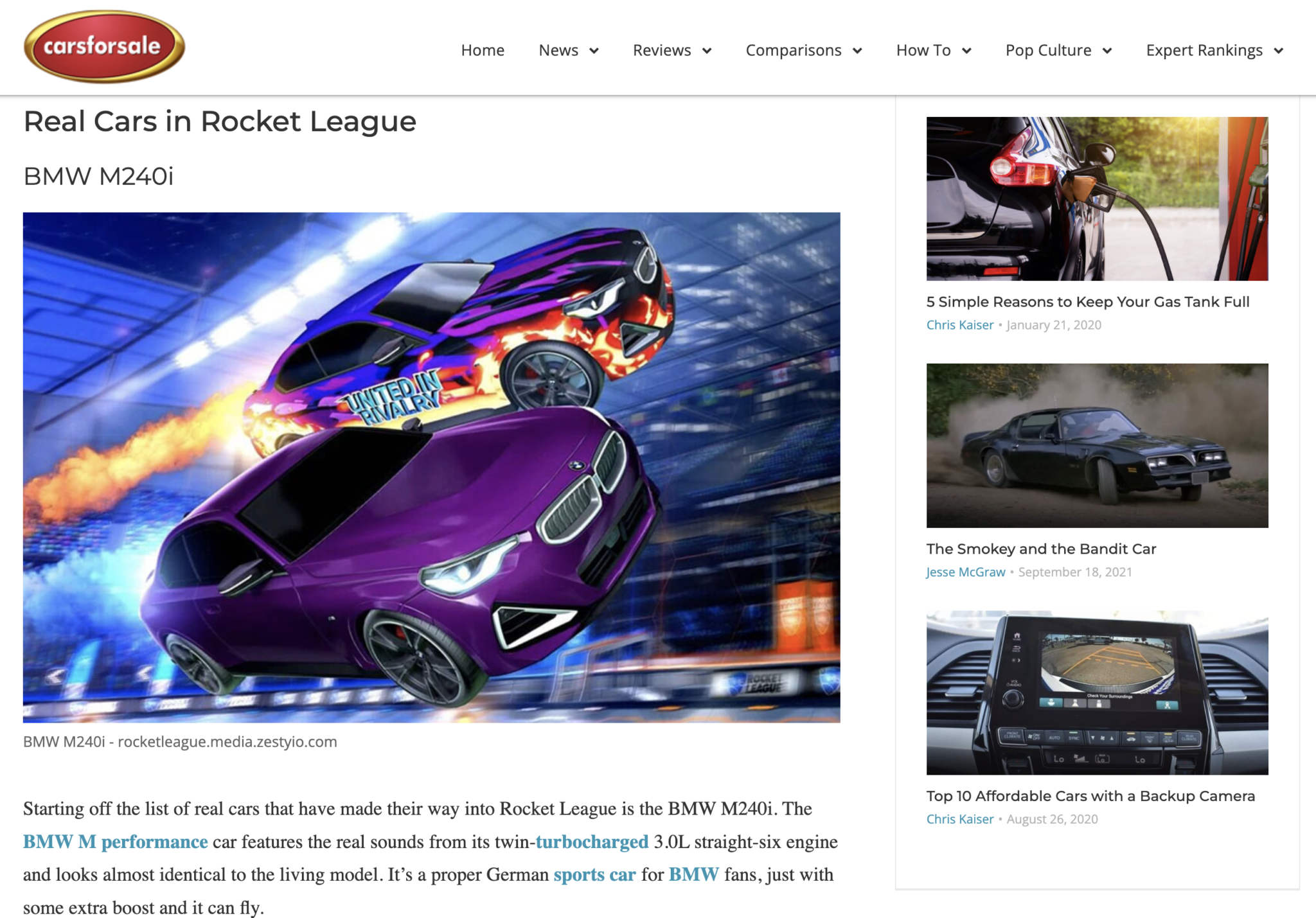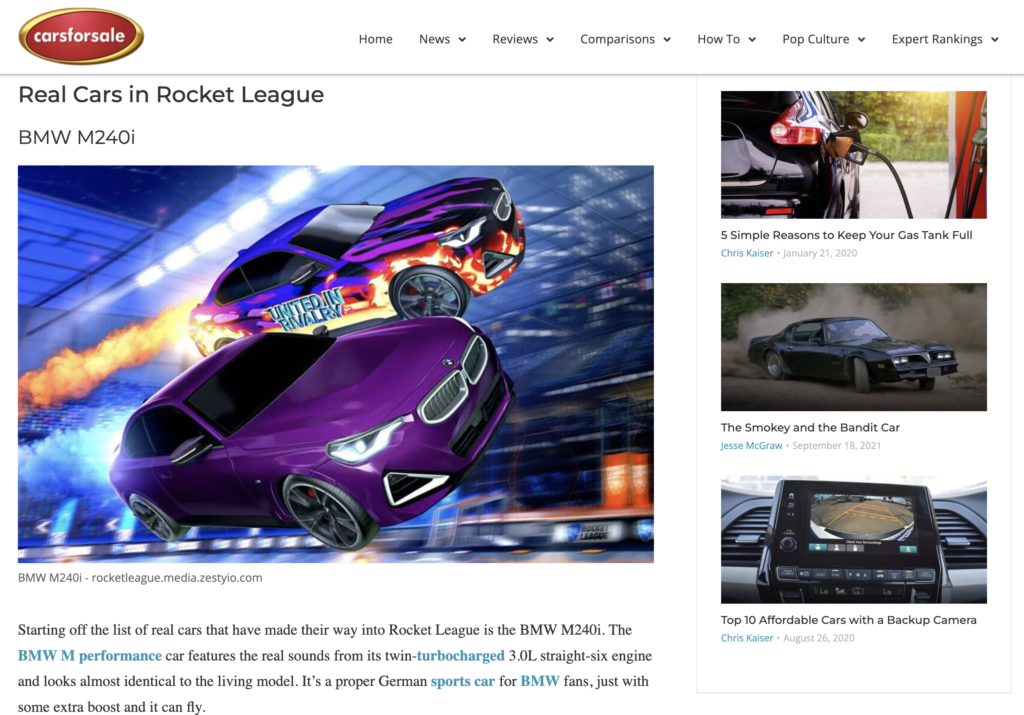 Describing cars within the context of Rocket League's playable experience and game community, as opposed to focusing on the brand/product/service, adds immediate authenticity to the content. Why? Because the post comes across as the type of narrative (unpaid and spontaneous), which characterizes the online gaming community.
The biggest challenge for non-endemic companies is creating this variety of content because it requires a certain tone and tenor, which cannot be faked. The solution is to always involve someone with experience playing video games. In other words, high-quality content intended for people who enjoy video games should be created by, or with direct input from, a gamer.
Otherwise, the audience is likely to see through the marketing exercise and the intended customer actions will hold zero appeal.
Still, gamer is an umbrella term e.g., there is no single type. So, content should always express the viewpoint of someone who plays games and matches the persona of your target demographic(s). The cardinal rule is, if you are speaking to an audience, someone like them should have a say in the content creation process.
Touch Culture
Gaming can be described by a set of behaviors (e.g., engaging in playable experiences, consuming content, etc.) and interests related to video games. Similarly, gaming has evolved a distinct family of aspirations, needs, and wants driven by the shared enjoyment of video games.
And the same way that increased access to the worldwide web has formed what is called Internet (digital) culture, the continued emergence of video game play has birthed gaming culture. Where content creation – whether by a popular influencer or a brand – falls under this cultural umbrella.
Likewise, you can create compelling content by tapping into the group of symbols, values, and social practices native to the worldwide gaming community – even if your product/service category is not conveniently featured in a popular game like CarsForSale.com.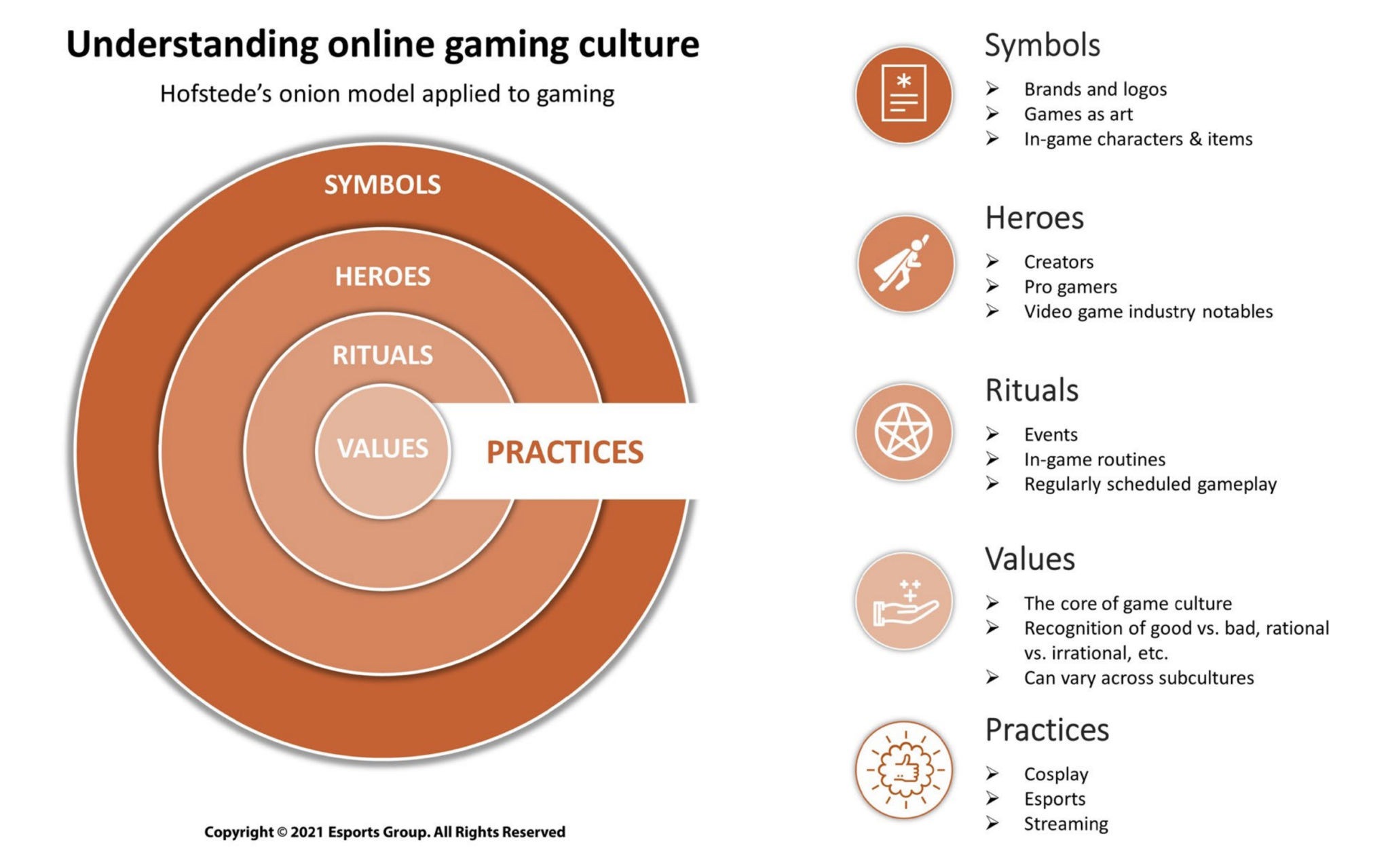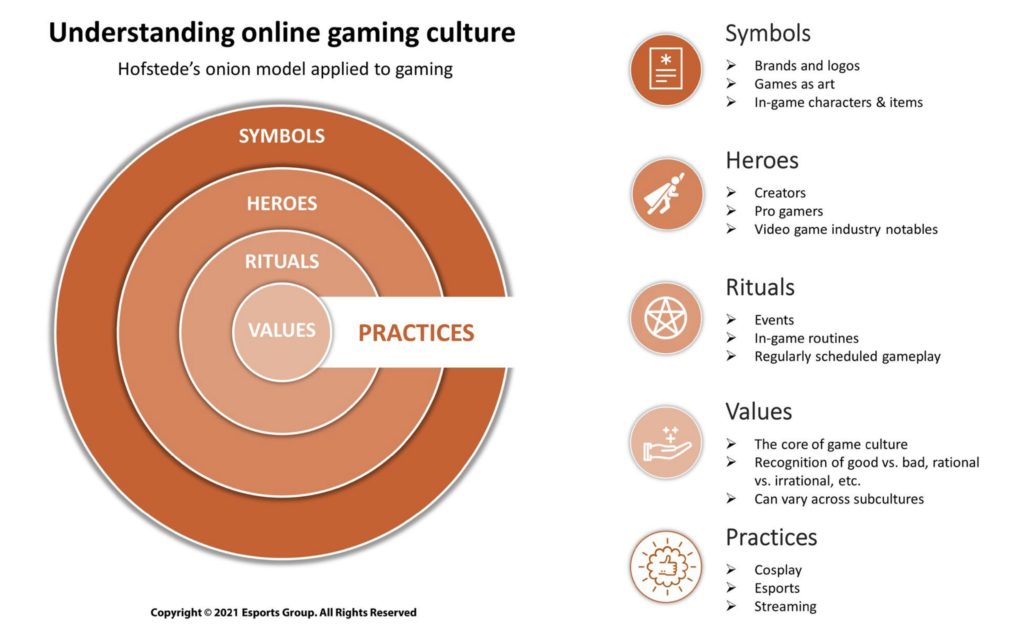 For example, competitive video games (esports) are a popular form of gaming with millions of fans across the globe. Digital sport, with its many similarities to physical sport, is also a massive opportunity to reach gamers in a form familiar to many outside the video game industry. Yet, competition (esports) is just one of many facets of gaming culture.
Where effective content marketing in gaming often depends on choosing the appropriate cultural touchpoint around which to frame your topic(s), much more than finding the perfect game title, genre and/or trending topic. Since after establishing as much, you are better prepared to evaluate which format and content types fit best.
Hide your brand
Many people assume that content marketing is the same as branded content. Yet, although both involve content creation to reach potential and existing customers, they are two different methods with separate goals.
Content marketing is focused on engaging audiences in a relevant consistent manner, without direct brand mentions. Whereas branded content is typically focused on entertainment-type media that features the brand front-and-center.
This difference is particularly important because the tactic of hiding brand presence is ideal for companies outside the video game industry (non-endemics) attempting to reach gamers. Why? Because non-endemic products and services are not native to the gaming market anyway.
So, it makes more sense to create useful and engaging content relevant to gamers above harping on the brand itself. Where the goal is to establish an implicit brand association with gaming that builds trust and credibility over time.
For example, the CarsForSale.com Rocket League post did not mention the company, its mission, or offerings at all. In fact, aside from embedded links to the company's web pages, the page could exist anywhere on the web and readers would have no idea that it was authored by a used car marketplace.
Although, by keeping your brand behind the scenes, content creation requires an ongoing investment to achieve certain marketing goals. The upside in gaming, however, is that content marketing can build long-term relationships with hard-to-reach audiences. A claim that cannot be easily made about other marketing activities like branded content.
---

Join our FREE newsletter for premium marketing insights in esports, gaming and the metaverse! Sign up today