"A brand is a living entity, and it is enriched or undermined cumulatively over time, the product of a thousand small gestures."

Michael Eisner, former Chairman and CEO of the Walt Disney Company
It's alive
All successful brands have distinct personalities. And much like humans, these personalities develop over the course of years. Meaning while brand image can change over time, personality is more consistent.
Brand image – tangible and visible characteristics
Brand personality – traits associated with an emotional connection (vibe)
Brand personality is especially prominent in the world of competitive video games. Where digitally native esports organizations are largely dependent on fans' identification with their brand and loyalty to it.


Getting personal with IBM Watson
In the past, surveys were used to determine how customers relate to brands. Today, advances in artificial intelligence by IBM Watson can accurately predict the personality traits perceived by humans.

Accordingly, eSports iQ and IBM Watson are used to profile written text from top teams on social media to produce insights on their brand personality.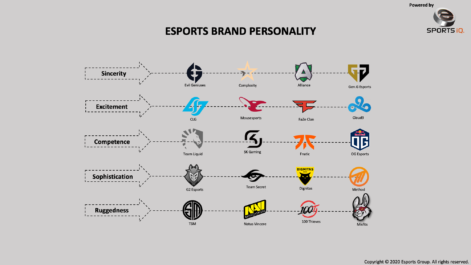 To do so, AI-powered analytics were mapped to Jennifer Aaker's Five Dimensions of Brand Personality (Journal of Marketing Research, 1997):
Sincerity – authentic, pure, and friendly.
Excitement – daring, spirited, and playful.
Competence – successful, reliable, and performant.
Sophistication – timeless, smooth, and refined.
Ruggedness – strong, assertive, and hard-working.
Why it matters
Understanding how esports brands are perceived is critical to developing more meaningful interactions and audience-centric marketing strategies. The importance of which grows as more non-endemic partners expand involvement in the world of competitive video games.

For example, BMW recently teamed with 5 esports teams – Cloud 9, Fnatic, Funplus Phoenix, G2 Esports, and T1. The German automaker's campaign themes like "United in Rivalry" and "United at Home," will benefit from close alignment with each partner team's brand personality.

Ultimately, esport audiences will personify brands, for better or worse, on their own. Which further underscores the importance of establishing a clear voice that consistently resonates. The combination of human touch and AI-powered platforms like eSports iQ helps do just that.
---