"Values aren't buses…They're not supposed to get you anywhere. They're supposed to define who you are."

Jennifer Crusie
The world of competitive video games, while no longer a secret, still holds significant opportunity for non-endemic brands and marketers.


However, one of the biggest hurdles is selecting the right entry point to reach digital sport audiences – e.g. partnering with a game publisher, league operator, or team. And rightfully so, as esports is an out-of-market experience for those outside of gaming.


Nonetheless, all compelling sponsorships begin with partners who speak the same language and champion the same values.


Matching brands to esports
Artificial intelligence (AI) is already using predictive algorithms to improve areas of the customer lifecycle, including: acquisition, retention and win-back. The same technology can also help identify esports partners that might best align with a sponsor's values.


And since every piece of communication reveals something about a brand's personality and values, eSports iQ uses IBM Watson AI to analyze brand voice on social media. Watson utilizes linguistic analysis to infer personality characteristics from written content.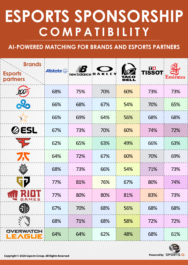 When applied to words used by a brand, the result is a persona – or portrait of what that brand stands for. From there, eSports iQ matches the personas of potential brand sponsors and esports partners to identify a best fit (see above image).


The outcome is a prediction of sponsorship compatibility –the same way dating apps use algorithms to predict chemistry between people. This technology-based approach improves the chances of a good sponsorship match by considering tiny details humans overlook.


Why it matters
Ultimately, esports marketing can elevate brands by adding value for, and creating lasting relationships with hard-to-reach audiences. And when it comes to non-endemic brands, especially those new to competitive video games, partner selection can make or break success.


Likewise, finding the right partner to help shape communication takes time, but also requires quality data and analytics.


eSports iQ employs artificial intelligence to make the sponsorship matching process much more tailored, accurate, and personalized. The resulting insights enable faster, smarter, data-driven decisions crucial to successful sponsorships in today's digital age.
---