"It's the same me, just a different platform"

Ninja, on moving from Twitch to Mixer via Twitter
2019 has been an interesting affair for Mixer – Microsoft's streaming service. Since, even in the aftermath of signing top content creators, like Ninja and Shroud, it's clear that Twitch is still the 800-lb gorilla of the streaming world.

As it stands, Twitch, if unchallenged, could emerge as the Facebook of interactive media – given the platform's network effects. And as more marketing spend shifts towards gaming video content, Mixer could land outside a Twitch/YouTube duopoly which mirrors the Facebook/Google hold on the online ad market.

In that light, here are three reasons Mixer should partner with an esports team.


Esports/streaming crossover
Twitch's market position is fueled by its role as hub for both esports and non-esports content. This crossover is illustrated by the fact that 48% of English-speaking, Twitch users follow at least one of the competitive scenes for League of Legends, CSGO or Dota2.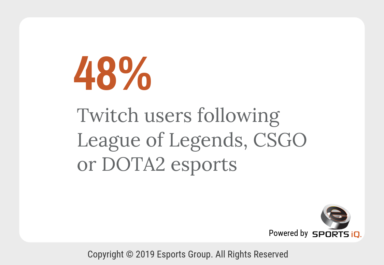 Likewise, esports teams sign their own content creators – to capitalize on the overlap between these audiences.

While signing a competitive gaming organization won't immediately bring esport content to Mixer. Teams will bring their content creators to the platform, with esports fans as part of that audience. If nurtured correctly, this can eventually drive organic demand for competitive content.


Teams as marketing partners
Partnership with an esports organization will bring the team's content to Mixer, and double as promotion for the streaming service. Alternatively, Mixer would need to influence already hard-to-reach esports audiences with ingrained preferences for Twitch/YouTube.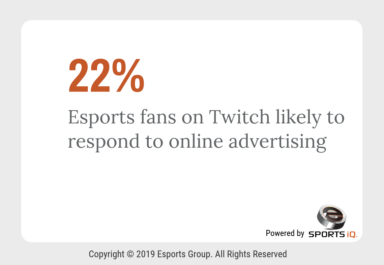 Once partnered, teams have more resources and incentive to showcase differentiating features than an individual creator. For example, an organization's streamers can be more creative with Mixer's Co-Stream, which allows multiple streams to be viewed simultaneously.


The Fortnite phenomenon
Even though Fortnite isn't an esport (yet), the title has quickly given rise to a new generation of gaming personalities (see: Ninja) and generated a massive amount of mainstream awareness. Plus, the 2019 Fortnite World Cup demonstrated immense viewership potential for an audience where 28% don't follow any esport title at all.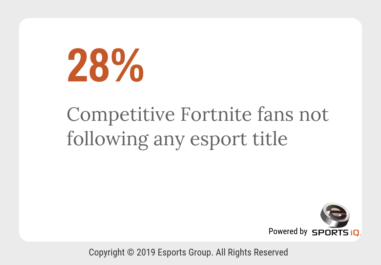 Mixer has already signed Soleil "Ewok" Wheeler, a 14-year-old Fortnite streamer with FaZe Clan. Adding a leading esports team – with strong ties to the Fortnite community – could further position Mixer as a home for the evolving competitive scene.


Sources
All insights are generated by eSports iQ and based on the social data (English speaking) of:
10,000+ Twitch users
10,000+ esports fans who use Twitch
10,000+ competitive Fortnite fans
eSports iQ uses AI/machine learning to produce audience analytics that help you understand digital sport fans, their interests and how to interact with them.
---