"A region is an area of land that has common features. A region can be defined by natural or artificial features."
Guild Esports recently signed a two-year sponsorship deal with sandwich franchise Subway. The multi-million-pound partnership covers 55 EMEA (Europe, the Middle East and Africa) markets. It also illustrates how geography factors heavily into esports sponsorship.
Ultimately, brands are looking for esports touchpoints that align with their target markets. And rightfully so, since effective marketing depends on identifying which consumers matter most to a business. The challenge, in esports, is understanding the nuances of fandom within regional markets.
Unfortunately, global viewership does not provide insight into how valuable brand association is at a local or regional level. However, eSports iQ audience analytics can illuminate how online game communities overlap with geographic areas. The result is a clear view of competitive video game consumption within a target market and/or physical territory.
Esports regions defined
"Place" or "location," as defined in traditional markets, is less relevant in the world of online gaming. As an extension of game communities, esports audiences are also digitally native and, by relation, inherit certain characteristics. Brands and marketers need to know these similarities and differences – but at a market level.

On the other hand, markets exist in physical territories defined by regions – land areas with similar characteristics. In esports, similar game types attract similar audiences. As a result, geographic markets can be segmented by game genre interest – the same way that consumers are traditionally segmented by physical residence in cardinal directions like North, South, East and West.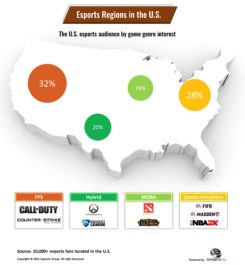 AI-powered audience analytics enhance multi-dimensional visibility into esports fandom. This enables the concept of an esports region, such as MOBA esports fans in the United States (click image above to enlarge). The resulting combination of digital and geographic characteristics empowers brands and marketers to maximize their reach within an individual market.


Making it clear
Genre is a unifying feature across otherwise unique game communities. For instance, fans who follow the Call of Duty esports scene are, by relation, interested in first person shooter (FPS) games, even if they don't follow another FPS title. Likewise, fans who aren't interested in sports simulation games will not follow any of those titles. Esports regions help clarify these behaviors in key markets.
Grouping esports consumers by game genre interest within an individual market creates more cohesion and less fragmentation. Why? Once again, game content is a unifying theme across the overall esports ecosystem. For example, organizations sign top professional players who compete in events and leagues associated with specific game titles.
Additionally, game content is a major factor in the consideration of an esports campaign. See: FPS titles often feature gameplay with violent scenarios that don't fit brand guidelines. Navigating these dimensions is essential to executing an effective marketing strategy.
Why it matters
Even in an increasingly digital world, location is a key demographic for marketing communications. And despite its inherently global nature, the same applies in competitive video games. Towards that end, distilling esports audiences into regions, based on game genre interest, is a valuable approach. Some benefits, include:
Sponsorship valuation – Solid valuations give sponsors confidence in the assets they're purchasing, but there is no one size fits all, especially in esports. Still, the overall value should consider the size of associated esports regions in target markets.
Improved segmentation – Dividing large territories like countries into smaller groups is essential to effective brand positioning.
Influencer identification – Influence marketing is a fast-growing channel for reaching esports audiences. Identifying top influencers in esports regions helps pinpoint who can best speak to consumers in specific markets.
Audience analytics provide insights into the global esports attention economy. From there, esports regions help brands and marketers better grasp how competitive video game audiences translate into geographic markets. The outcome is more informed, data-driven campaigns and partnerships.


---