"We have made the difficult decision to cease operations for our dedicated daily esports editorial and content…We recognize esports as an opportunity to expand our audience, and we'll continue to do so through coverage from the broader team for major events, breaking news and coverage."

ESPN spokesperson via Esports Observer
Note: This is the second installment in a series. See the first part here.

Closure of ESPN's dedicated esports outlet comes against the backdrop of a company-wide workforce reduction of ~500 jobs. And follows a pivot to producing its own esports events over the past year.

However, only 25 of 288 ESPN esports events attracted 1,000+ viewers – per TwitchTracker.com

Mostly because media outlets, like ESPN, create the cultural narratives around sport. On the other hand, digital sport draws its culture from an array of game communities. So, the best way to win audience attention is to understand the dimensions of esports fandom.


Strength in numbers
Esports audiences stem from a range of game communities spanning multiple genres and platforms across the world. Some games attract fans from a wider audience, while others are narrower (click image below to enlarge).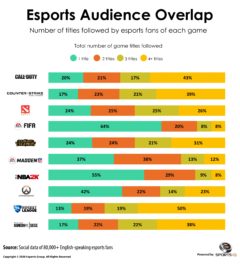 The resulting diversity creates a vibrant tapestry of attention dynamics, and flies in the face of statistics which ignore game-by-game differences.


Key takeaways
Sports simulation games attract a niche following, i.e. Most fans follow that title only. Whereas MOBA titles, Dota 2 and League of Legends, are more balanced.
Shooter-based games have broad appeal. On average, 40% of Call of Duty, CSGO and Rainbow 6 esports fans also follow at least 3 other games.
Audience fragmentation is an issue for NBA 2K and FIFA – esports fanbases with significant differences between the number of games followed.
Despite Blizzard's ambitions to build a large fanbase, the majority (42%) of Overwatch's esports audience only follows that game.
Two of the most popular esports titles – CSGO and League of Legends – are more like games in the same genre than with each other.

eSports iQ uses AI/machine learning to produce audience analytics that help you understand digital sport fans, their interests and how to interact with them.
---