"Before you can have a share of market, you must have a share of mind."

Linda Wolf, former chairman and CEO of Leo Burnett Worldwide
Amid the COVID-19 global pandemic – gaming video content is having a coming of age moment. See: Twitch topped three billion hours watched over the first quarter of 2020. Likewise, competitive video games are currently the world's lone sport, which means its attention economy is booming.


Attention as currency
The term attention economy is based on human capacity to engage (limited) versus the content and events vying for mental focus (nearly unlimited). Likewise, attention is the currency that everyone is competing to capture and monetize.

In the esports attention economy, streaming metrics (e.g. total hours viewed) are commonly used to express attention captured. Yet, analytics for an English language stream don't accurately distinguish between a viewer in Australia and Canada. This has very real implications for decision making, e.g. brands and advertisers evaluating the reach of esports content in specific markets.


Winning with social
At the same time, social media engagement is more than just clicks – it is a window into the contour of human attention. So, we put eSports iQ's segmentation technology to work – combining publicly available social data across geographic region and competitive game interest.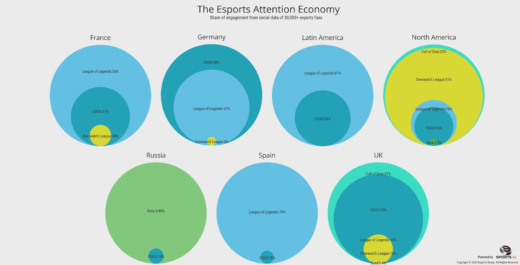 Objective: Illustrate the flow of esports attention across the world.

Results: Insight into the share of attention captured by top game titles – drawn from 30,000+ esports fans on social media – in 7 countries and regions.


What you should know
Sustainable esports success is synonymous with broad and deep global relevance. See: League of Legends accounts for an average share of 36%, and CSGO is top 2 everywhere except North America.
The average share for Call of Duty World League is 8 times more in North America and the UK than its average everywhere else.
The average share for Overwatch League is 3 times more when League of Legends is not the top title.
Why it matters
Today's increasingly digital world (more content, connectivity, etc.) has created a heated battle for attention. As the continued emergence of various ecosystems – gaming, streaming, etc. – is directly tied to capturing more consumer attention.

In the same light, growth of the competitive gaming attention economy – especially among hard to reach audiences – is the primary force behind esports market growth.

eSports iQ uses AI/machine learning to produce audience analytics that help you understand digital sport fans, their interests and how to interact with them.
---