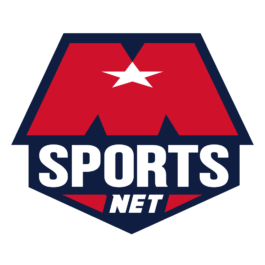 A Monumental Netflix of Esports
November 2, 2016

Tags: Monumental Sports Network, Ted Leonsis, OTT, eSports, eSports business, Team Liquid

Categories:Insight, Media
Ted Leonsis is a busy man. On the heels of headlining purchase of esports club Team Liquid, he also launched Monumental Sports Network – a localized over-the-top (OTT) service. Leonsis is one of the first pro sports team owners to utilize his own media rights through his own OTT service. Likewise, the sports industry has already pegged Monumental Sports as the future model for sports media.
Since Mr. Leonsis is part of the ownership group for Team Liquid, it makes sense to examine the opportunity for an esports crossover. So, let's take a look at three reasons Monumental Sports will benefit from pursuing an esports strategy.
Winning the esports fan dollar
Esports fans are undoubtedly passionate. Yet, the average revenue per enthusiast is expected to register at $3.65 in 2016 (Newzoo). In other words, the esports consumer model is still embryonic. While ticketing and merchandise already attract fan dollars, direct monetization of viewership is basically nil. Offering a subscription based esports package on Monumental Sports is an innovative step in the right direction.
Currently, Monumental Sports is locally focused – featuring programming and live games for sports teams in Washington, DC (see image below). Adding games played by Team Liquid could grow the club's local fan base and stimulate demand for live events across the region. However, the network isn't limited to esports properties in which Ted Leonsis has an ownership stake.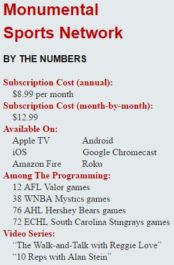 For example, Team Liquid is a founding member of the newly formed Professional Esports Association (PEA) and its professional Counter Strike Global Offensive (CSGO) league – starting January 2017. While Mr. Leonsis doesn't own rights to all PEA games, striking an agreement to broadcast them on Monumental, alongside other exclusive content, would attract fans of CSGO and other PEA teams.
The combination of unique programming – e.g. player interviews, behind-the-scenes access – plus all of Team Liquid's content and PEA broadcasts would position Monumental as an early Netflix style destination for a global esports audience.
Esports media matters
Currently, premium esports content is wrapped in tightly held in silos. Unlike traditional sports – where media rights originate with teams in leagues – a handful of companies own the vast majority of distribution and production rights. In many cases, it's the equivalent of ESPN controlling the organization of National Basketball Association (NBA) games.
Turner Sports owns and operates ELeague
Riot Games controls all League Championship Series (LCS) play in western world
Modern Times Group (MTG) is majority owner of Electronic Sports League (ESL)
Activision Blizzard owns Major League Gaming (MLG)
Accordingly, a consistent flow of supplementary content is hard to come by. Monumental Sports can fill this gap by producing its own and hosting other ancillary programming that complements live broadcasts – including video-on-demand (VOD) content. Even a modest offering of original shows and series would make for an attractive direct-to-consumer option for the esports market.
Embracing the future
As investment continues to pour into esports team ownership, game publishers and third-party companies will have no choice but to loosen their monopolistic hold on media rights. It's not unthinkable that teams will hold media rights for all competitive matches that they participate in, whether it's the LCS or a premier ESL tournament.
If Monumental Sports proves a subscription model for Team Liquid programming, it will attract valuable content from other properties. Along the way, innovating in esports fits the profile of Monumental, which Leonsis has described as a "petri dish."
Embracing esports is a valuable opportunity for Monumental Sports to position itself in the mold of Netflix – a platform for homegrown and outside content. The value of secure, subscription-based, delivery directly to consumers is not insignificant. Plus, a central network for premium esports programming – fit with features like discovery and curation – addresses a significant soft spot in a fast-growing market segment.
---
Join the eSports industry's #1 weekly newsletter for FREE! http://eepurl.com/b_Cca5