[A summoner] represents each player throughout their games and the other parts of their League of Legends experience. The summoner is the persistent part of the game, as opposed to champions, which can change in every match." 

League of Legends Fandom Wiki
Riot Games' League of Legends is a popular multiplayer online battle arena (MOBA) game title in which the concept of a summoner is littered across the player experience. For instance, players pick a summoner name when they first start playing and competitive League of Legends matches (the world's #1 digital sport) take place on Summoner's Rift.
While Riot changed its role in League of Legends lore some time ago, summoners still select and fight as a champion (avatar) of choice for the duration of a match. They also gain experience and influence points from each battle fought.
The following proposes a partnership between Starbucks, a global coffeehouse with over 30,000 stores in 80 countries, and Riot Games. Where Starbucks taps into the concept of a summoner to connect with League of Legends fans. The objective is to demonstrate how brand activations can leverage Web 3.0 (Web3) technology to provide authentic experiences for the global gaming community.
Here is what you should know:
League of Legends is one of the most popular video game titles on the planet with an estimated 120+ million active players per month
The Web3 enthusiasts compose a niche community that intersects but does not overlap with interests like gaming, music, etc.
Technologies like non-fungible tokens (NFTs) need distinctive and relevant use cases to appeal to mass audiences
Starbucks can activate with Web3 technology to create memorable brand associations with gamers
Expanding relevance
Starbucks recently outlined plans to create, "a series of branded (non-fungible token) NFT collections, the ownership of which initiates community membership, and allows for access to exclusive experiences and perks." The coffee company correctly notes that NFTs hold tremendous potential as a digital access pass to unique experiences – as opposed to being used just for digital art collectibles.
The question is, can companies like Starbucks offer experiences capable of overcoming the fact that NFTs still only have niche appeal? Where outside that segment, mainstream audiences need compelling, relevant reasons to sign up for a crypto wallet to own NFTs, for example.
Enter the worldwide gaming community – fit with 3 billion gamers who spent $180+ billion on games in 2021. Out of which an estimated 125 million play Riot Games' League of Legends monthly, making it one of the most successful video games on earth. It also features a rich story world full of vivid characters e.g., the popular Netflix animated series Arcane is an adaptation of the game franchise.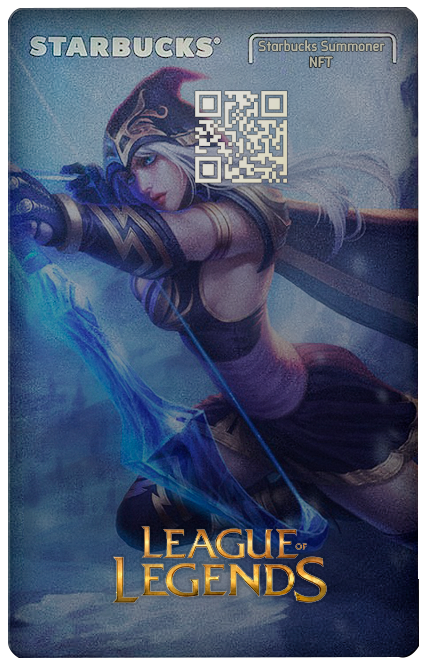 Starbucks can tap into the wellspring of League fandom by partnering with Riot Games to issue an NFT collection inspired by summoners – a colloquial term used to distinguish players from the player-controlled champions (avatars). This term is a nod to the many nuances tucked away in the game's 12+ year old history. One which has seen League of Legends blossom into a global media phenomenon.
A branded NFT collection is immediately relevant to the tens of millions of gamers who play League every month. Summoner NFT ownership would also create a bridge to becoming a Starbucks customer for the massive League of Legends community. More importantly, it forges a distinctive association between players' in-game identity (as a summoner) and the Starbucks brand.
Building on blockchain
Starbucks has communicated plans to embrace Web3 technology starting with coffee art and storytelling – an approach which will undoubtedly resonate with current customers and fans of the brand. However, a gaming centric NFT activation is a lucrative opportunity to grow an already massive rewards system which counts 25 million active members in the U.S. alone.
Blockchain technology both enables the creation of NFTs and is an ideal platform for linking Starbucks' loyalty system to Riot Games APIs – which provide access to League of Legends player data. Where a host of companies like Mobalytics already use this publicly available data to provide applications for gamers to improve their gameplay.
Employing a blockchain to mint NFTs and connect to League of Legends player data means that Starbucks can tie rewards to in-game activities in a seamless, decentralized fashion. A great deal of which could occur transparently to NFT owners. All the while keeping non-public data separate to uphold privacy policies.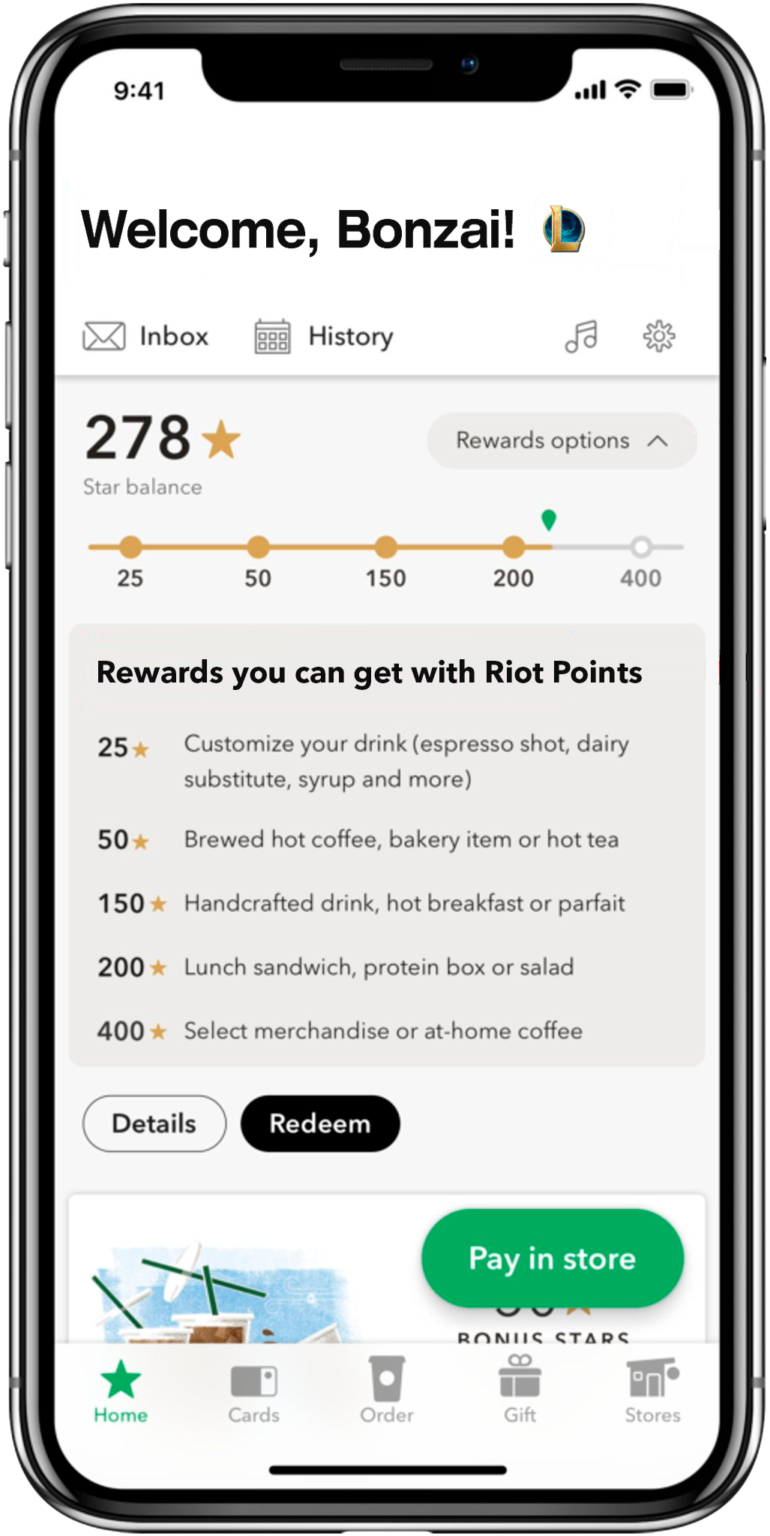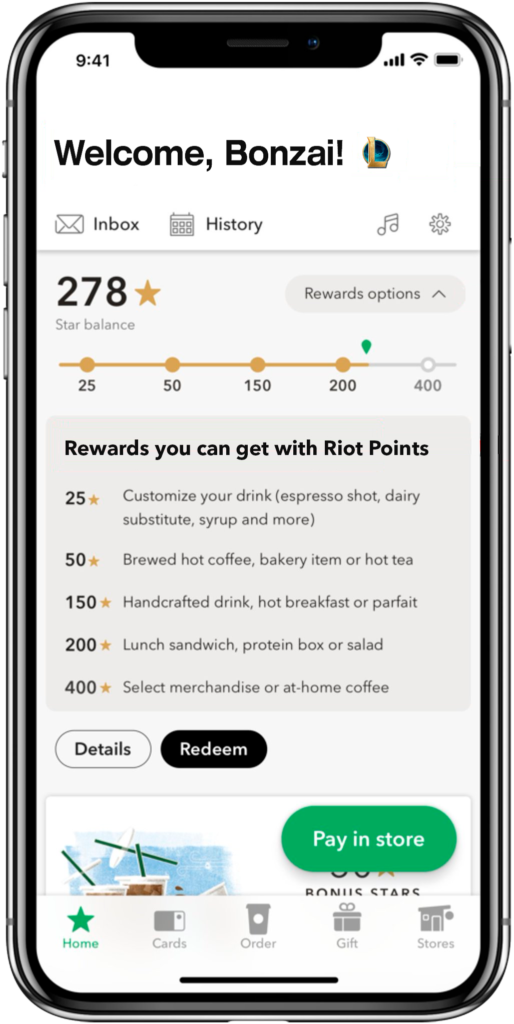 Personalizing for gamers
Imagine a gold-tier player earning MVP in a ranked match and getting a reward for a free Vanilla latte in the Starbucks mobile app. This degree of personalization aligns with Starbuck's history as a leader in digital customer experience. Where customers receive communications that match shopping habits, preferences, and behaviors. The result? Starbucks Rewards accounts for 53% of in-store spending.
The opportunity to build distinctive, ownable associations that promote positive customer actions is especially relevant as more brands are moving into what is being called the Metaverse. Especially when it involves personalizing the customer experience for players of one of the most popular video games in the world.
The League of Legends community could connect their virtual world experiences to real-world rewards. While Starbucks would unlock a channel for engaging hard-to-reach audiences at scale. Not to mention, this move would provide a useful application of innovative technologies like NFTs in a way that shifts the narrative, outside the Web3 community, away from relatedness to activities like currency speculation.
---

Join the leading esports marketing newsletter for FREE! Sign up today