"We consider ourselves very much in the leather helmet days…People forget that because, in the esports space, nine years is a long time. But we're still very much in our infancy."

David Higdon, Global Head of Communications, Esports at Riot Games via The Verge

Riot Games recently announced a complete rebrand of its League of Legends esports ecosystem. The new brand is a first step towards better consolidating 12+ professional leagues worldwide.


Digital sport is, by definition, global but competitive game title interest is asymmetric across geographic region. So, the prospect of connecting regional leagues under a single umbrella represents both opportunity and challenge.


Strength in numbers
To illustrate as much, let's investigate the dynamics of League of Legends esports fandom in Europe.


Approach: Use eSports iQ to profile the publicly available social data of 20,000+ competitive video game fans across France, Germany, Russia, Spain and the UK.


Objective: Gain insight into the general interest in and attention captured by competitive League content among European esports fans.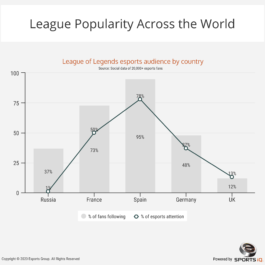 Learn more about how eSports iQ measures esports attention here.


What you should know
Leading titles, like League, benefit from a significant amount of casual interest relative to other competitive games – evident in regions like Russia where fan following (37%) greatly outpaces attention captured (1%).
Interest levels are a proxy for general awareness but can be misleading due to audience overlap, e.g. fans following more than one game title. Attention captured helps express the depth of regional interest.
Regions with much larger interest levels than attention captured indicates a shallow fanbase, e.g. other titles hold a lot more mindshare.


Why it matters
The continued effects of COVID-19 on traditional sports and live entertainment across the world, suggests more brands are paying attention to competitive video games.


And ultimately, esports offers brands and marketers the opportunity to gain market share and extend share of voice among hard-to-reach audiences. However, more tools and resources are needed to help improve decision-making and provide richer data.


eSports iQ uses AI/machine learning to produce audience analytics that help you understand digital sport fans, their interests and how to interact with them.


---