The 21st century revolt against interrupt advertising calls for marketing that will: capture attention, build loyalty, and drive sales for your brand. This reality is particularly relevant in the world of esports – full of digitally-savvy, hard-to-reach consumers.
Fortunately, storytelling is a breakthrough brand marketing tool for connecting with audiences across the world. This powerful mode of communication wraps commercial messages inside an emotional package with sticking power.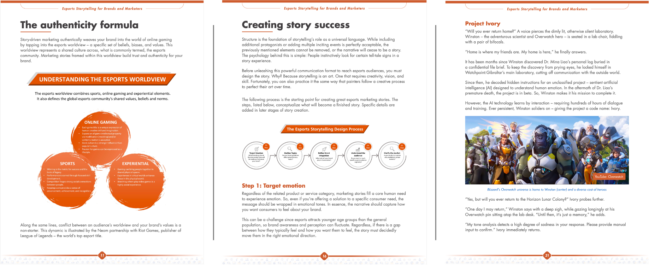 So, how do you tell great esports marketing stories? That's what this report covers, plus:
Why storytelling is an effective mode of communication
How to emotionally connect with esports audiences
Must-haves for effective storytelling
Brands that have successfully created esports marketing stories
The importance of story-driven partnerships
The report is available in multiple formats for reading convenience. Choose the format below that works for you and enjoy!

Read online
Part 1 of 3 – The power of storytelling and examples of esports marketing stories
Part 2 of 3 – How to successfully execute esports storytelling for your brand
Part 3 of 3 – The importance of story-driven partnerships and visual storytelling

SlideShare