In the world of eSports, content is king. Yet even as competitive gaming content makes its way to linear TV, its primary home is online. However, reliable visibility – statistics, analytics, and data – into the reach and effect of live online broadcasts are acutely missing. Consequently, informed decision-making for connecting to its audiences remains difficult. Into this picture enters Stream Hatchet, a startup based in Valencia (Spain), focused on providing an analytics platform for Twitch – the leading destination for video game broadcasts.
"Competitive gaming will need to adhere to media industry standards to convince non-endemic brands at scale. To grow, it has to overcome one of its biggest struggles in digital media today: the lack of credibility and reliability of accurately assessing the 'true' eSports audience."
Challenges aside, the growth of eSports is driven by interactive media – e.g. online video and live streaming. And as hard to reach audiences continue to spend substantial amounts of time creating, interacting with, and viewing content on live streaming platforms like Twitch, the phenomenon is too impactful to ignore.
Market Opportunity
Stream Hatchet is but one of a growing number of eSports-related startups vying for an increasing volume of private investment – topping $140M in two of the past three quarters – according to CB Insights. Stream Hatchet is first-to-market with a comprehensive, analytics intelligence platform that is well-positioned to help make sense of the over 241 billion minutes of live video content produced on Twitch in 2015. This is a valuable market position as live online broadcasts are a central piece of the eSports experience.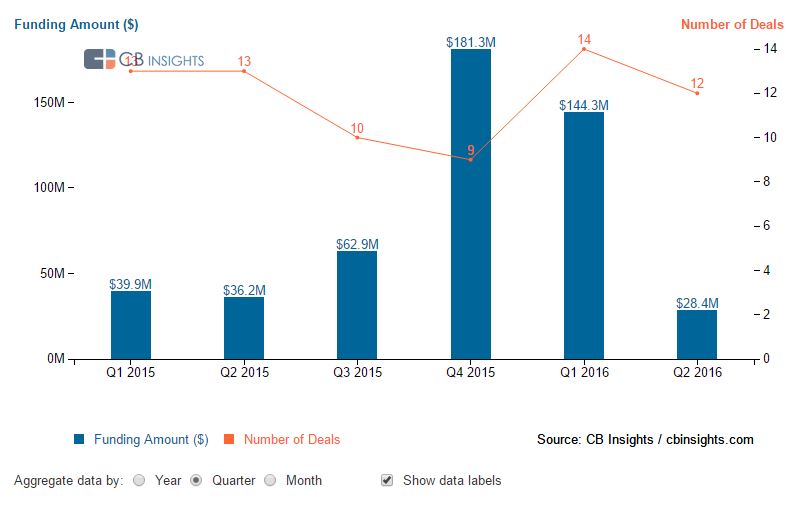 Courtesy of CB Insights
Aside from live streaming endemics – such as video game publishers and eSports event organizers who already broadcast on Twitch – there are several non-endemic categories that benefit from analytic-driven insights on live streamed media:
Brands and advertisers – Given that the Unruly Future Video Survey (July 2015) showed awful responses to online video ads – 90% of US consumers would consider using ad blocking software while another 81% mute the ads altogether – the effectiveness of pre-roll ads is hardly high. Nuanced understanding of the live broadcast experience, e.g. analytics and insights, are absolutely critical to impactful campaigns and programs.
Sports marketers and teams – On the heels of yet another European football team entering the eSports arena, it's clear that the intersection of traditional sports and competitive video games is just beginning. For sports teams that invest in eSports athletes, live streaming must be adopted as an interactive form of social media – e.g. another outlet for fan engagement. Sports marketing agencies are also being challenged to develop eSports strategies, which lean away from linear TV, for an array of clients and rights holders.
Media and entertainment – A new class of media and entertainer is being forged by the massive popularity of live streamed video game content – an average of 1.7 million monthly Twitch broadcasters produced over 459 years worth of content in 2015. Even non-gaming content is beginning to find a home on Twitch (see image below).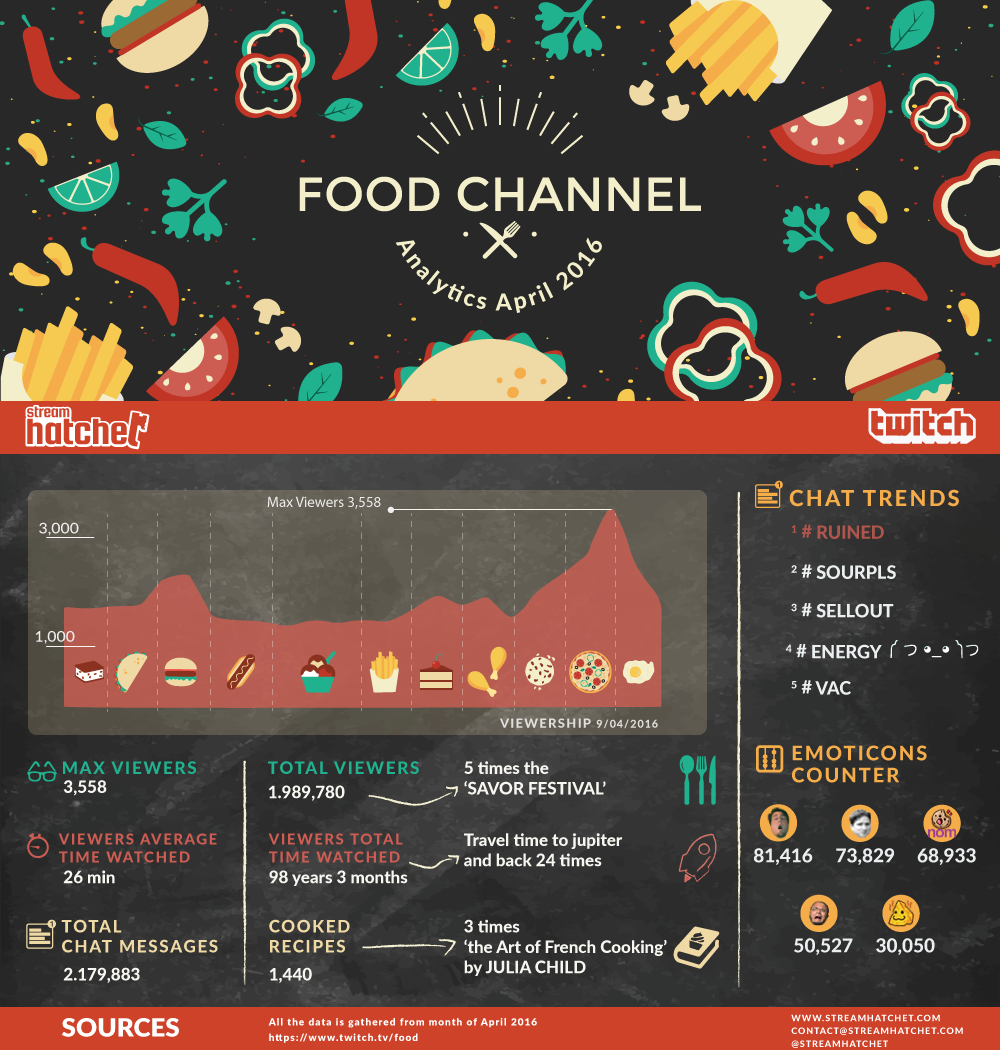 Courtesy of Stream Hatchet
Stream Hatchet Q&A
To better cast Stream Hatchet's market position, co-founder and COO, Eduard Montserrat was kind enough to engage in some Q&A:
What's the story behind Stream Hatchet and its team?
We are a motivated and passionate at what we do. We have known each other for 6 years we graduate together and after that we took different paths.
Albert Alemany is MSc with 3 years of experience with database applications and IT consulting. He is in charge of the Backend of the platform.
Albert Benitez is Software engineer MSc in media applications with 4 years in experience in the tech and mobile solutions. He is in charge of building strong relationships with the other actors of the scene and developing the strategy for this rapidly growing industry.
Eduard is Software engineer and graduate in business management with 3 years of experience in ecommerce and IT solutions.
We started this project a year ago because we are love game streaming and be felt the lack of a tool that analyzes and extracts curated key insights for the agents around the streaming scene.
Describe, in simple terms, how Stream Hatchet works
Our product consists of an analytics intelligence platform. We gather statistical data from several sources and excel in the visual representation of this information.
Content creators, game producers, sponsors, and eSports tournament organizers need an analytics platform that helps them make informed decisions.
You can think of us as the Google Analytics for the game streaming.
What has the feedback been from the Twitch streaming community?
We received an overwhelming response from the community, helping us validate the idea and providing us excellent feedback.
The community is one of the reasons why we keep pushing it. Our tool was something missing in the field and the reaction from the Twitch streamers it is been fabulous.
Has Stream Hatchet received any official rounds of funding?
We have been accepted to be part of an accelerator program in Plug&Play. We are thrilled to be part of the amazing Plug&Play network and, so far, it is a marvelous experience to grow our business. Right now we are in the middle of our seed round to expand our Sales and Marketing strategy for B2B and position Stream Hatchet as a thought leader in this field.
What type of data does StreamHatchet capture that's most useful to brands and sponsors?
eSports organizations need a way to identify the influencers, target the right audience and measure the impacts of their marketing campaigns. We can provide data based on language, channel, game, game type, audience, aggregated or individually.
Twitch streaming (of events and game content) is the epicenter of eSports media and viewing behavior. How do better analytics aid the overall experience?
We believe that comprehensive analytics is key in order to evaluate the scene. Analytics is a must to evaluate marketing campaigns and sponsorship remuneration. But also deep analytics can help to determinate which hour is the best to stream on Twitch based on the game or language. Combining it with other sources such as chat, donation platforms or Twitter it can provide powerful insights.
It seems like game publishers could benefit from aggregation of Twitch streaming activity. Who are your target users and customers?
The users of the tool are streamers, videogame producers, brands and advertising companies. All of them need an easy and accurate way to get the insights that occur in the streams.
Brands can leverage their impact by supporting live video streaming. Online video is a primary way to reach viewers who are abandoning traditional media. More than half of gamers make purchasing decisions by watching gaming videos. Gaming streaming maintains solid and relevant information that can turn into metrics that help targeting ads.
We offer an easy to use tool to monitor the impacts.
The streamers generate a significant amount of data, that they want simplified and organized. Our tool simplifies and gathers information is very helpful for streamers as they normally use 4 different sources of data while streaming. 77% of the Streamers income comes from advertisers and sponsorships so that they need a trusted source of metrics.
---