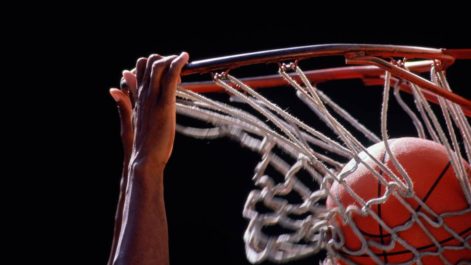 The Esports Fast Break Continues
September 28, 2016

Tags: Team Dignitas, investment, eSports, NBA, Team Liquid

Categories:M&A, sports
The esports megatrend continues to gain steam. Over the last two business days, two longstanding competitive gaming clubs sold controlling interests to prominent members of the sports industry. First, the National Basketball Association's (NBA) Philadelphia 76ers – acquired two esports clubs: Team Dignitas and Team Apex.
Then it was an ownership group including Peter Gruber and Ted Leonsis – two of the most successful professional sports team owners and technology/media entrepreneurs – purchasing controlling interest in Team Liquid. Below are four factors which will affect the complexion of both acquisitions, and future sports-themed investment in esports.
For more insight on the Team Liquid acquisition, check out Episode #2 of Beyond the Noise on YouTube.
The battle for leisure
A recent Washington Post article by Ana Swanson highlights how incredibly engaging video games could be contributing to young men – without a college degree – in America rejecting work to live at home and play video games. The premise is at the heart of research by economists from Princeton, the University of Rochester and the University of Chicago.
Research bias aside, there's no denying the data: Video games are consuming a larger share of attention among young men than ever before. Gaming – once considered a hobby or distraction – is now a bona fide outlet for leisure time. Specifically, men between the ages of 21 – 30, of all stripes, are spending more time gaming (see image below). This increase strongly implies other forms of entertainment are being substituted.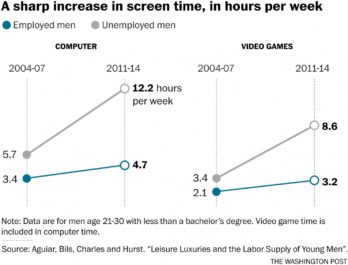 Video games have long been a strong passion point for young people across the world. However, recent technological advancements – high speed internet access, widely available mobile devices – have enabled a massive shift in media consumption patterns. Investing in esports is a channel for re-purposing a growing share of the leisure time (and dollars) which traditional forms of sports entertainment can't reach.
Rising value of esports competency
Sports properties across the world are in the process of understanding how to navigate and engage esports as a medium. Case in point: The groundswell of European soccer teams investing in esports doesn't look to be slowing down anytime soon.

Additionally, it's not just sports teams who are active. There is a definite trend which points to the strategic value of esports competency in the sports world:
rEvolution (acquisition) and Intersport (hire) made esports moves in the last calendar year
ESPN and Yahoo invest in esports verticals.
Turner Sports continues season 2 of ELeague
AEG partners with Electronic Sports League (ESL) to grow esports events business
The National Association of Intercollegiate Athletics (NAIA) helped launch the National Association of Collegiate eSports (NAC esports) – a governing organization for varsity collegiate eSports programs.
It's no coincidence that the above covers a wide spectrum of the sports industry – e.g. media, representation/marketing, events/venues and collegiate. The takeaway: Esports aptitude is fast becoming more than optional.
Product integration challenges
Players and teams compose the sports product's core. In esports the video game title is featured – a great marketing function for game publishers – but with teams and players playing a valuable, but somewhat secondary role.
This dynamic affects everything from fan loyalty – e.g. the video game being played is a leading trigger for fan support – to sponsorship activation. Sports properties evaluating an esports entry must be prepared to navigate accordingly.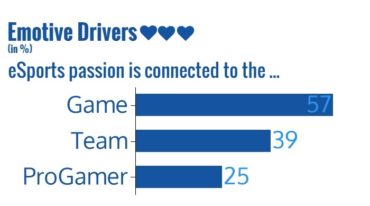 To overcome this gap, sports properties must leverage the entire spectrum of digital competition – not just the spectator (fan) angle. Currently, esports, as a medium, is closer to social media – digitally native, dispersed, and inherently global – than a professional sports platform – regional, centrally governed, and consolidated. Sports ownership groups aren't just purchasing an asset – they are joining a community. As such, they are beholden to the role of community member, not just a sports franchise.
Cultural gap
Notion that athletic participation promotes sound mind and body dates back to ancient Greece. Today, sport and physical prowess remain inexorably linked. Conversely, gaming – a less physically intensive domain – doesn't maintain the same relationship. Likewise, sports properties must meet the sensibilities of esports audiences without endangering hard-earned equity in the traditional sports world.
" 'Esports' is cynical marketing ploy because using the word 'sports' gives this credibility it would not have otherwise…if you accept these electronic games as 'sports' then literally anything is sports."

— Reader response to the Sports Media column "Turner looks beyond ELeague's lower viewership numbers" in the Aug. 1-7 issue of SportsBusiness Journal.
Embracing the same ideals of trust, belief, unity and hard work – shared across digital and physical competition – can help. Still, it is a delicate balance, to say the least. Plus, the more brand equity a sports property has, the more is at stake.
However, this is where a new generation of athletes, who have grown up gaming and excelling at sports, will play a critical role. Names like Gordon Hayward – who passionately presented the case for gaming in the Player's Tribune and later signed an endorsement deal with a gaming equipment company – or Jeremy Lin, who recently endorsed an esports team, are but a few examples. It will be these athletes, in conjunction with their esports counterparts, who will be at the forefront of bridging this cultural gap.
---
Join the eSports industry's #1 weekly newsletter for FREE! http://eepurl.com/b_Cca5