The DNA of an Esports Fan
February 1, 2017

Tags: fan insight, DoTA2, eSports

Categories:Fans, Data, Insight
A growing, yet hard-to-reach audience is at the heart of the esports megatrend. But what is the true nature of esports fandom? To answer as much, we kicked off the Esports Fan DNA series – starting with Defense of the Ancients 2 (DOTA 2).
The results: Key insights & analysis from 3,000+ DOTA 2 fan reactions – across Facebook, Reddit, Twitter and YouTube. See infographic below for more detail: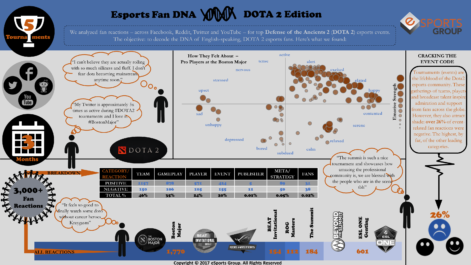 Who should care
According to research from Newzoo, there are six million esports fans that don't follow traditional sports – in the US alone. So clearly, the character of esports fandom is unique. In order to effectively reach this audience, it's mandatory to grasp its culture and language.
This starts with an understanding of the passion that esports fans share. Specifically, non-endemic brands and marketers must learn to think and feel like them. Esports Fan DNA provides a window into the minds and hearts of competitive gaming enthusiasts – in their own words.
Approach
You can learn a lot by listening. Likewise, using social listening provided rare insight into voice (English speaking) of DOTA 2 fans across the world. Only reactions that exhibited sentiment were used – to illustrate the contours of esports fan passion in DOTA2.
The data analysis included five (5) event properties: Boston Major, BEAT Invitational, ROG Masters, Beyond the Summit and ESL One Genting.
Reactions were categorized (positive, negative, neutral) across seven major categories – team, game, player, event, publisher, meta/strategy, fan-related.
The data was used to model emotional attachment and/or strength of bond for fans.
Lessons learned
Fewer than 2% of team-related reactions indicated a strong sense fan loyalty to a single team.
Good in-game performance (23%) was a leading driver of positive team reactions
Over 17% of positive team reactions at the Boston Major were for Ad Finem – due to their inspiring run to the grand finals as an underdog.
Over 26% of event-related fan reactions were negative – an indicator that viewing audience is highly invested in the production, broadcast, and on-air talent quality of tournaments.
Toxicity was relatively low – 18% of all reactions rated as non-positive
The trends were then used to create the following DOTA 2 fan profiles:
Game enthusiasts – Highly knowledgeable enthusiasts who are strongly attached to the DOTA 2 game franchise. They value skill, execution and high level plays – a.k.a. "good dota" – above all.
Team devotees – Fans centered on attachment to one or more teams.
General supporters – Community members who value the competitive spirit and general sense of connection that esports provides.
The end product is a clear understanding of what makes DOTA 2 fans tick: who/what they are "cheering" for, leading sources of affinity, what excites and enrages them, etc.
Outlook
The Esports Fan DNA series will continue with Counter Strike Global Offensive (CSGO), followed by League of Legends. Additional DOTA 2 data will be added in parallel. The end goal is a comprehensive model of general esports fandom – drawn from individual game title data.
---
Join the eSports industry's #1 weekly newsletter for FREE! http://eepurl.com/b_Cca5