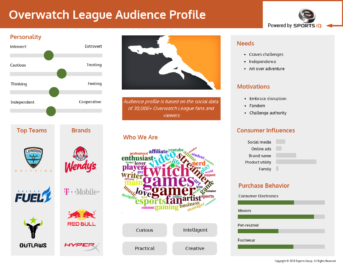 Overwatch League Audience Profile
October 17, 2018

Tags: eSports iQ, esports audience analytics, audience insights, Overwatch League

Categories:analytics, Insights, eSports iQ
Esports growth is being fueled by its audience. See: A quarter of the world's population will be aware of esports by 2021 (Newzoo research). In turn, understanding this growing audience is central to unlocking commercial opportunities.
So, in light of continued investment into Blizzard's Overwatch League (OWL), we used our eSports iQ analytics engine to transform social media data into a unified profile of OWL fandom.
This single persona – composed of analytics from 30,000+ OWL fans – provides unique insight into key characteristics of the English speaking audience.
Approach
To accurately portray audience-wide characteristics, eSports iQ uses artificial intelligence from IBM Watson; which is built around research that links word use to personality and other behaviors.
Additionally, we developed custom machine learning models to support the automated processing of gaming and esports related purchase statements.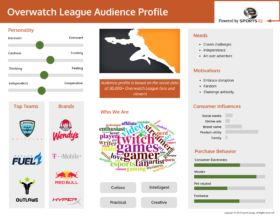 eSports iQ uses those to combine social data points into a representative audience profile.
Click here for more info on how eSports iQ works.
Why it matters
Sustained success in the esports marketplace depends on reaching its audiences in the right way. A fact that holds true for endemic and non-endemic actors alike.
Likewise, anything from brand marketing to commercialization strategy benefits from better understanding target audiences.
Our vision is to leverage cutting edge software to provide these accurate insights – faster and more effectively than traditional market research and surveys.
Looking ahead
Audience profiles will be included in the commercial release of eSports iQ – set for early Q2 2019. In the meantime, please check out the open beta version. And as always, any/all feedback is greatly appreciated!
---
Join the esports industry's #1 weekly newsletter for FREE! http://eepurl.com/b_Cca