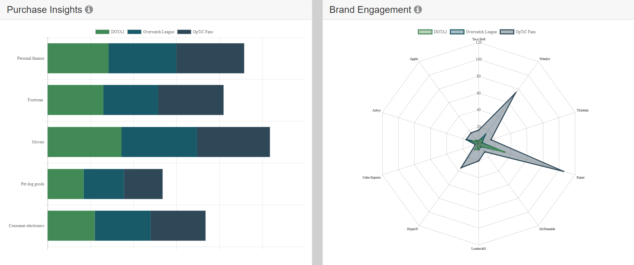 eSports iQ – Version 2.0
June 20, 2018

Tags: eSports iQ, IBM Watson, AI, OpTic Gaming

Categories:analytics, Insights, eSports iQ
Last month marked the debut of our esports audience analytics dashboard. And, based on generous user feedback, eSports iQ version 2.0 features some key improvements. Including: 
OpTic Gaming team fans are now included in the audiences

 

European football fan measurement

 

Purchase insights for all audiences (see below)

 
Updated influencer numbers

 

Video explanation of eSports iQ technology 

 
Purchase Insights
Several users requested more detail around esports consumer spending. And while purchase data is incredibly important – it's not straightforward to come by using social media data.    
The first challenge is accurately detecting and categorizing statements about purchases, without human intervention. For that, eSports iQ uses IBM Watson AI for natural language understanding combined with pattern recognition algorithms – to determine actual purchase behavior.   
The second challenge is assembling a representative sample from the available spending data points. As there's risk that only certain segments are willing to share info about purchase behavior. The solution here is to overlap personality and purchase data – to avoid skewed insights.  
The result: eSports iQ version 2.0 contains purchase insights from 12,900+ competitive video game enthusiasts across six audience segments.   
As always, please submit any/all feedback. Enjoy!  
---
Join the esports industry's #1 weekly newsletter for FREE! http://eepurl.com/b_Cca