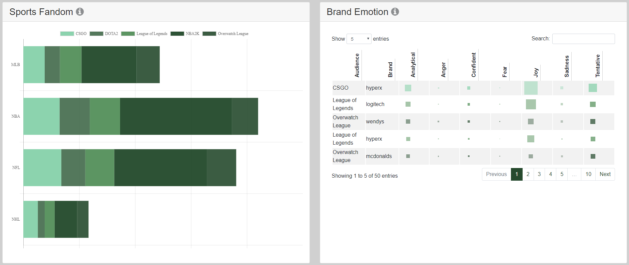 eSports iQ – Open Beta Version 1.0
May 16, 2018

Tags: esports audience analytics

Categories:analytics, Insights, eSports iQ
"Moving at the speed of social."
One year ago, we set out to shed light on hard-to-reach esports audiences.
Why? Because survey and viewership data does not provide actionable insights into the unique dimensions of esports fandom.
So, we developed an analytics platform – engineered around social media data.
Since, true commercial success in esports is found by understanding and engaging its audiences.
Today, we're taking the next step:
The open beta launch of our eSports iQ audience analytics dashboard!
Now, our unique audience segmentation technology is at your fingertips. And we want your feedback!
[
Click here to launch the dashboard
]
So give it a whirl and let us know what you think!
FYI – The open beta is a free, limited version of the commercial product – coming in Fall 2018.
---
Join the esports industry's #1 weekly newsletter for FREE! http://eepurl.com/b_Cca