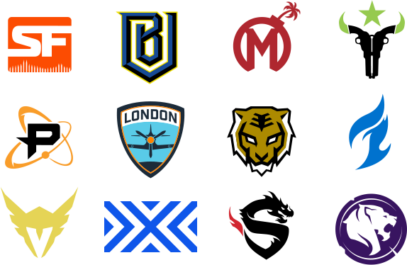 Why Overwatch Esports Needs Twitch
December 7, 2017

Tags: OWL, esports audience insights, Overwatch, Twitch

Categories:analytics, Insights
Things are looking up for the Overwatch League (OWL). Franchises for the inaugural season are set. Last month's Overwatch Cup had better viewer numbers than most expected. Plus, league commissioner Nate Nanzer also announced that home team skins will be available in-game starting early 2018.
However, news that the OWL preseason will be aired exclusively on MLG.tv comes as a surprise. Especially since the question on everyone's mind is:
Can Overwatch blossom into a major competitive title despite mild viewership numbers to date?
Reality: Overall viewership numbers are unimpressive. And they are nowhere close to the global aims for the league. See: Overwatch was just the 7th most watched game on Twitch in October 2017 [Newzoo].
It's also unlikely that moving the preseason away from Twitch – and its 15 million daily active viewers who consume 106 minutes of content each day – will result in better numbers. Note: it's still unclear where the regular season will be aired.
With that in mind, let's take a look at the dimensions of untapped Overwatch fandom within the Twitch community.
To do so, we profiled 16.4+ million social media reactions, across 12,000+ randomly selected OWL fans and Twitch community members – via our eSports iQ analytics platform. The data was then used to build a personality model of both audiences.
The concept is simple. Similar personalities tend to like similar things.
Here's what we found: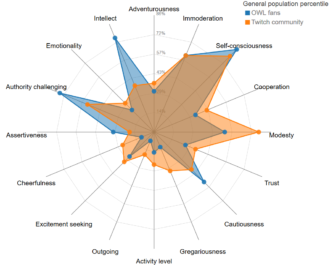 Insight: There is a strong overlap between OWL and Twitch audiences. Likewise, it's highly likely that more Twitch viewers are open to consuming Overwatch content – than current numbers might suggest.
Insight: The Twitch community ranks higher in areas that are positively related to fandom – cheerfulness, excitement seeking and gregariousness. Basically, Twitch is home to people more likely to become avid fans. This has massive implications for a fledgling league based on a relatively unproven game title.
Insight: The general Twitch audience is considerably less cautious and more trusting. That's a strong combination of traits if you're marketing new experiences like watching/playing a game for the first time.
Insight: Twitch community members are decidedly more social, energetic and communicative. These are key influencer personality markers. Meaning Twitch boasts a stronger ratio of influencers.
Insight: OWL fans show significantly higher levels of intellect. This is a negative indicator for casual viewership. Although, the main knock on most esports titles is they are too difficult for newbies to follow. Blizzard must aggressively focus on drastically simplifying the viewer and fan experience.
Recommendation: OWL marketing and promotion, which includes the preseason, should focus heavily on the Twitch community. The prospect of city-based teams attracting significant casual interest is a long shot compared to closely with integrating Twitch. So yes, the Holy Grail is in owning content and distribution. But none of that matters if no one is watching.
---
Join the esports industry's #1 weekly newsletter for FREE! http://eepurl.com/b_Cca